When will Newark figure this out?

Excerpts posted in the Durango Herald
….. All this started as a pilot program in 2010. The first on-street rack was in front of Carver Brewing Co. That proved so successful that three more were added in June in front of Maria's Bookshop, Mountain Bike Specialists and Gazpacho's Cantina.
The program is a public-private partnership. Businesses apply to the city for a rack. If approved, a business pays a $200 per year capital improvement fee for five years, which largely offsets the $1,300 cost of the rack. The business also pays for the installation of the rack and pays the city what it could have expected to collect from the parking meter and associated fines. Any needed replacements are covered by the city.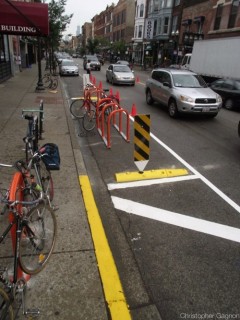 The public response to the racks has been overwhelmingly positive. Merchants and their customers like them. Bike riders have a convenient place to park, and the on-street location of the racks keeps the sidewalks clear for pedestrians. Downtown parking may even benefit. And all that comes at little or no cost to the taxpayers.
For merchants, the benefit is obvious. More of their customers can park right in front of their business. That is especially important for downtown as a whole as the demographics of bike riding expand to include more and more of the public. Driven by concerns for the environment, fitness, traffic and increasingly economic, that trend can be expected to continue.
Another possible gain could be to motorists. Installing bike racks on the street eliminates a parking space and, in that sense, reduces available parking. Without the convenience of the racks, however, it is certainly possible that two or more of the 16 riders who can park their bikes in each rack would have driven instead. If so, the net effect could be to bring fewer cars to downtown. It would be a minor effect, but one that could be at least as meaningful as the loss of one space and one that could help ease parking.