By Stephen Curtis —
I was recently told about a hapless cyclist in Dover, DE:
A woman arrived at the Carroll's Plaza Office of Social Services with her bicycle to apply for services. She came in the front lobby with her bike and was told that it was against policy to bring bicycles into the building. She forced her way into the very cramped waiting room anyway with her bike, explaining that she did not have a working lock, that there wasn't anything to lock it to anyway and was not about to leave her bike outside. This created great consternation in the office; what if everyone came in with their bike when there was barely room for clients? This was a bad precedent. The staff solved the crisis, at least temporarily by storing the bike in the staff break room. What is a more permanent solution to the problem for the benefit of all concerned?
Our cyclist client's concern was well founded: Another client's bicycle parked out front of the same building a few weeks earlier had been stolen while this client was in the building accessing state services.
Bike Parking could be made available at the entrance to the State Service Center, where there are ample provisions for smokers flanking the entrance.
Some Bike Parking could share space with smokers
It is understandable for many obvious reasons that bikes should not be allowed in public buildings, especially when the facilities are already stretched to the limit. It is equally understandable that any cyclist would defend their ride as fervently as our client. Many of us just consider bikes as a recreational vehicle or exercise machine. We forget that there may be many more people who rely on them as their sole source of transportation. A bicycle may be all many can afford, or all society will allow them to use when they can't meet requirements for driving a motorized vehicle.
Many of our fellow citizens find it very difficult to survive in our society so dominated by the motor vehicle economy. There are too few accommodations for pedestrians and bike riders and too little awareness of the deprivations imposed on so many by what is generally accepted as responsible urban planning. Have you ever tried to walk or ride on the streets of the typical US strip mall and sprawling business roads? You probably have more likely found yourself cursing those who do – from the comfort and safety of your vehicle, while they risk their lives out of necessity to get around.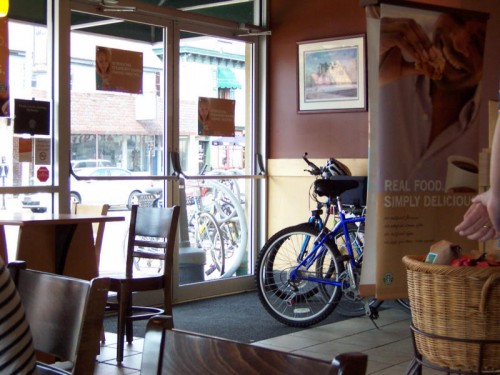 No place to park? No problem if you're a patron of Starbucks in Newark.  Just roll it inside.