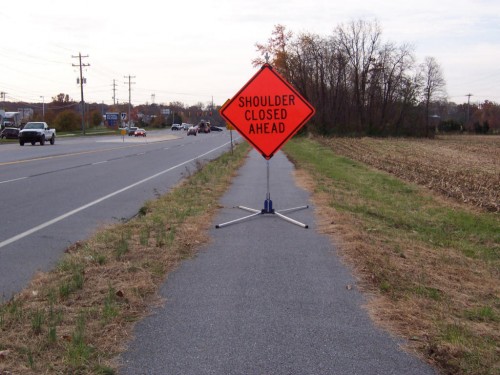 Above: The scene along the Rt.72 sidepath (south of I95) as of Nov.14. There are 2 such signs placed in the middle of this popular bicycle commuting corridor.
A reminder to DelDOT maintenance folks about equal level of service as stated in the Complete Streets policy:
VII. Justification
Complete Streets Defined
The term "Complete Street" means a roadway that accommodates all travelers, particularly public transit users, bicyclists, pedestrians (including individuals of all ages and individuals with mobility, sensory, neurological, or hidden disabilities), and motorists, to enable all travelers to use the roadway safely and efficiently. (HR 1443 IH)
Creating complete streets means planning, designing, constructing, maintaining and operating streets and all directly related components for motorized and non-motorized modes of travel, as appropriate for the area. The most basic element of a complete streets policy is that it ensures that roads are planned and built to serve all users.
We encourage our friends at DelDOT to please consider bikes and pedestrians on equal footing with our motor vehicle counterparts.