First year medical residents working shifts that last for more than 24 hours; painful/embarrassing rituals of hazing for fraternity pledges; tribal initiations that involve ritual circumcision; new navy crew members "kissing the Baby"; television game contestants eating bugs; and presidential candidates subjected to months of public humiliation.  These are all awful, but none quite compares to the harrowing rite of passage known as Hare's Corner that bicycle advocates must endure: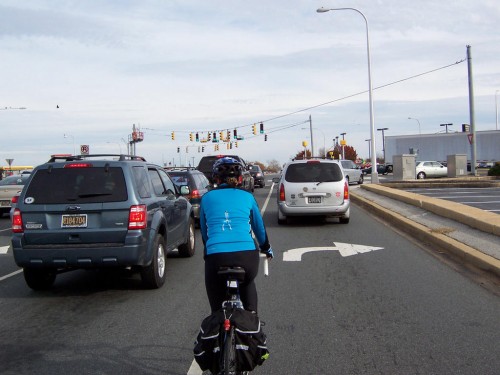 "Once more unto the breach, dear friends, once more; Or close the wall up with our English dead. In peace there's nothing so becomes a man as modest stillness and humility: But when the blast of war blows in our ears, then imitate the action of the tiger; Stiffen the sinews, summon up the blood, disguise fair nature with hard-favour'd rage;"
The pictures above and below show Bike Delaware's Membership Director Angela Cunneely as she successfully defied Hare's Corner (during a well timed green) on Sunday afternoon riding west to east on Route 273 on Nov. 13.  (Only someone with a true and deep-seated death wish would ever try this during rush hour.)  Angela, we salute you!