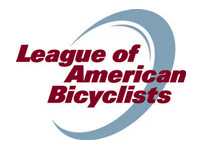 If you are still wondering why Federal funding for bicycling projects is so important, or unsure whether your voice makes a difference … read on. Funding for bicycle and pedestrian projects has been under repeat attack this year — notably by Sen. Rand Paul (R-KY), Sen. Tom Coburn (R-OK) — and Transportation Enhancements (TE) only continue today thanks to bicyclists speaking up on several Senate votes.
Unfortunately, the House transportation bill promises to be even worse — it wont preserve any dedicated funding for enhancements, Safe Routes to School or the recreational trails programs. Look at what the Federal Government and your state spent on bicycling and walking throughout the years.
To prepare for what we could be facing, Darren Flusche, policy analyst at the League, crunched the numbers to see what the future could hold. It's not pretty.
What would it look like if we didn't have Transportation Enhancements, Safe Routes to Schools (and the non-motorized transportation pilot program) and the Recreational Trails program? Below is the amount of federal money states have spent on bicycling and walking projects each year since 1992 (click to enlarge).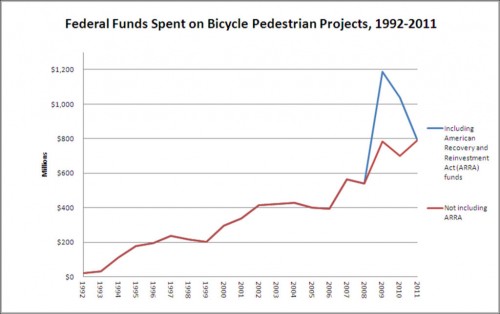 We've seen tremendous growth over the past twenty or so years, with a notable spike during the American Recovery and Reinvestment Act, the stimulus. Active transportation projects are popular and local and regional agencies are increasingly calling for these types of projects, but they need support from federal funds.