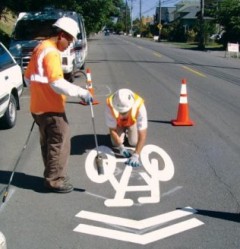 Virginia city moves forward with ambitious, active transportation safety plan while Newark would rather spend millions to encourage more cars downtown.
RICHMOND, Va. (WTVR)— The city has begun its first installation of bicycle sharrows. Over the next year approximately 80 lane miles of sharrows will be installed, said the city.
The pavement markings are part of the city's capital improvement plans and are intended to improve bicycling conditions on Richmond roads. The project is funded mostly by both the Commonwealth Transportation Board and Congestion Mitigation and Air Quality Improvement (CMAQ).
Total costs of the project are estimated at $775,000, said the city in a press release.
Sharrows are popular, urban solutions used in at least 26 U.S. cities to help move along mixed forms of transportation, according to the American Traffic Safety Services Association.
Specifically, sharrows are markings placed on pavement to indicate that bicyclists are also allowed full use of the lane.
"These marking will remind motorists that the road is shared with cyclists; encourage motorist to pass safely and should reduce wrong-way bicycling," said Mayor Jones.  [Read on …]