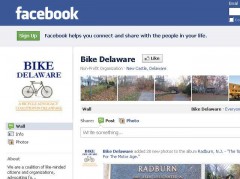 By popular demand, Bike Delaware now has an official page on Facebook. It is linked with Bike_DE on Twitter and will cross-post a link with each new blog entry. Those who depend on Facebook for their internet favorites will now be able to track Bike Delaware and make regular visits to our website as news items appear.
Please visit today and add your "Like" to our new Facebook page! There is still an OLD Bike Delaware FB page out there that we are unable to delete, and it may take a long time for it to disappear. If you see it, ignore it. We need increased activity and "Likes" on our new one to help ensure it rises above the old one in the search engines.
A tip of the helmet to Angela Cunneely, Bike Delaware's Membership Director, for putting us on-line with the internet's top social networking site!