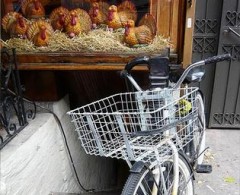 Cross-posted from Grist —
By Elly Blue — In last Sunday's New York Times, columnist Mark Bittman compiled a list of people and things in the food movement he's thankful for. The bicycle movement deserves its own list. Here's a start:
1. I'm thankful for the power of bikes to enable people-powered protest movements. Bicycles have been playing a supporting role in the Occupy movement, and seem to be bringing out the best in everyone, whether used by protesters or police.
2. Free bicycles are on the rise, thanks to an international network of bike collectives. Chances are there's one near you — find out on this list — where you can build yourself a bike and learn to do your own repairs. Or, to see an economic multiplier at work, donate money, parts, or time to a bike collective that provides free bicycles to teens or adults with low incomes.
3. Hooray for fenders! Riding through a light drizzle is a secret pleasure of mine, and if I had to choose between a raincoat and fenders, I'd choose fenders every time. After all, the rain is far cleaner coming down than it is when it's tossed back up by your tires.
4. I love the energy of small cities with big visions. As the giants like New York and Seattle wrangle over relatively small amounts of bike infrastructure, people in smaller cities around the country, from Oklahoma City to Newton, Mass., are seeing the appeal of bicycle transportation — and can have a much quicker road to revising their infrastructure and habits.
5. There is a 325-mile continuous paved trail on which you can bike, hike, or ski between Washington, D.C., and Pittsburgh. It's called the Great Allegheny Passage. How cool is that?