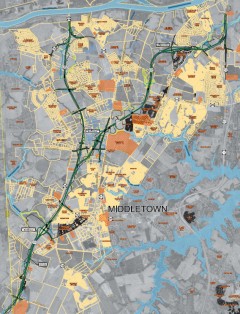 By Jeff Montgomery – Delaware Department of Transportation officials are preparing new financial forecasts for the U.S. 301 construction project amid renewed complaints the proposed new toll road could siphon away funds for other transportation needs despite assurances the highway will be self-supporting.
Currently forecast to be the state's largest highway project through the year 2040, the $747 million project was once expected to go out for bids in stages, starting early next year.
But the nation's recession and a lost bid for federal aid could threaten that timetable. Details are expected to be released next month, when DelDOT issues updates to traffic and toll-revenue forecasts.
"It's absolutely a fiasco for them. To even think that it's a good idea is mind-boggling," said Andye Daley, a Middletown-area resident and longtime opponent of the highway. "There's no fiscal way to do it. You have to know what your needs and your wants are, and 301 is a want." [Continue Reading …]
—
Posters note:  When will our state ever start thinking about light or high speed rail as a viable means to reduce congestion on the existing corridor, or down Route 1?