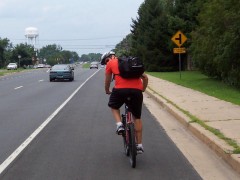 Cross-posted from smartplanet — In the same way that frequent flyers get rewards for air travel, shouldn't cyclists get rewards for making a sustainable trip to work?
A London cleantech startup, PleaseCycle, thinks so. The company created a digital hub to help employers encourage more bicycle commuting using a "bike miles" reward system. Employees track the miles they commute on bike using Twitter or a mobile app and use the miles to redeem anything from retail discounts to days off.
Since its beta launch earlier this month, over 5,000 miles have been logged using the system.