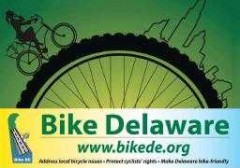 Bike Delaware is proud to announce some recent improvements, and volunteer needs:
1)  A few months back, Angela Cunneely volunteered as Membership Director. A new bicyclist this year, Angela has been a lifelong pedestrian advocate, having lived in the Bronx NY most of her life before moving to Delaware. A warm round of kudos to Angela for taking on this very needed role. Contact her anytime at angela_at_bikede.org, even if just to say "Hi".
2)  We are in the final stages of design for a new member's welcome kit, to include a membership card and Bike Delaware's latest brochure(s). A printed certificate of appreciation will also be included for those who donate at Silver ($50) and above. We apologize it has taken this long, as many of you are founding members who joined on March 22, 2011. This is long overdue and you will have yours before the new year. Going forward, all new members and renewals will have their member kits within 2 weeks of joining.
3)  We have too many lists. We are currently running a listserver, a news digest-only distribution, and a paid membership database in GroupSpaces. With our new website comes the ability to consolidate all of our members and followers into one large database for the sole purpose of our news digest, e-alerts and action items. We are looking at the possiblity of eliminating YahooGroups in favor of GroupSpaces for our listserver needs, which in effect would eliminate 2 entire lists and make life a lot easier for us. It should be noted that all of our member's personal information will remain strongly protected and never shared with the outside world, at any cost. Further details TBA.
4)  We are in the beginning stages of planning our next fundraising event and social this winter, probably in February. As many of you know, the "Cycling Season Opener" in March this year was well attended and brought us our first paid members, whom we recognize as "founding". We hope you'll consider renewing for another year or more. Much of what Bike Delaware achieved in 2011 might not have been possible without your financial support, and we must continue growing our membership or face stagnation. Having an event is pivotal, and we need volunteers who can assist in planning and pulling it off. Please email Angela Cunneely at angela_at_bikede.org to offer your time, if you have it.
5)  Several of you have made donations – a few beyond expectations – toward our Advocacy Advance matching grant. This is a $10,000 grant Bike Delaware won (the only state advocacy group to do so in 2011) that we receive in two installments, but the second will only come if the first is matched ($5,000). We are well on our way but remain short at this time. We will continue to work with our members and potential sponsors to secure the remaining balance.
Bike Delaware has come a very long way in the last 2 years, as evidenced by many posts under our progress category. We have grown well beyond what our current base of volunteers and contributors can handle, hence only now are things like membership welcome kits finally shaping up. If you feel you are benefitting from the work of Bike Delaware but haven't become a member or donated yet, please consider doing so today. Rome wasn't built in a day, but we have a rare, albeit possibly limited window of opportunity with the current bike friendly administration, legislature, and transportation secretary in Dover. If we rally the cause, there is an awful lot we can achieve over the next few years, as we work with our elected leaders, state agencies, Nemours Health and Prevention Services, the Delaware Bicycle Council, Delaware Greenways, the Newark Bicycle Committee, the Urban Bike Project and many, many others toward more legislation, more policy changes and more shovels stuck in the ground on bikeway projects.  And we are not only building a better future for Delawareans.  We are creating a national model here in Delaware that other states all around the country will be able to look to for inspiration.
___
Frank Warnock is currently serving as Public Relations Chair for Bike Delaware