White Clay Bicycle Club Meeting
Mon., Dec. 5, 2011
7:00 pm (open to the public)

Special Program:
A Contrarian View of Bicyclists and Advocacy
—a presentation by John Schubert
plus free pizza & beverages!
In keeping with WCBC tradition, we have arranged a first class guest speaker for our club's December meeting on Monday, December 5 at 7:00 pm, and will provide plenty of free pizzas and carbonated drinks (courtesy of WCBC).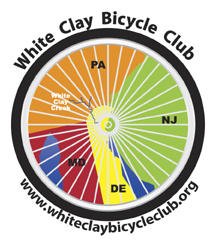 This year our speaker will be John Schubert, who is technical editor of Adventure Cyclist magazine, an expert witness in bicycle accident reconstruction, a candidate member of the National Committee on Uniform Traffic Control Devices, secretary of the Pennsylvania Pedalcycle and Pedestrian Advisory Committee, founder and chairman of the BicyclePA touring route network, and founder/CEO of the The Limeport Consulting Group, whose mission is to help bicycle companies and government agencies do their jobs better—to help improve the overall environment for cycling and to foster safer cycling through better products, proficiency, knowledge and better communication.
John is a highly informed member of the cycling community and considered extremely opinionated. His presentation will be lively and thought provoking. John believes that the U.S. advocacy community is copying the worst aspects and the most dangerous mistakes of European bicycling infrastructure. In his presentation, he will discuss specific fatal accidents, the 40-year record documenting those accidents, the way standards were established to avoid those accidents, and how the bicycle advocacy movement is trying to discard those standards, and bury the memory of why they were established. He'll describe why this has caused accidents, has had debatable effect in increasing ridership, and why it will fail in its stated goal of getting European levels of ridership in the U.S. He will also discuss how better strategies can increase actual safety and comfort for U.S. riders, and how the understanding of what constitutes safe riding has been vastly improved in the last five years.
The meeting will be held Monday, December 5, in the Wilmapco Building in Newark , DE (on Rt. 72, a few blocks south of the Newark Library) and start at 7:00 pm (map/directions). There will be a short business meeting after which John's presentation will begin. Everyone is welcome to attend, members and non-members alike. Join us for an informative and thought provoking evening and arrive early for the best seat.
Read about it on WCBC's website HERE.