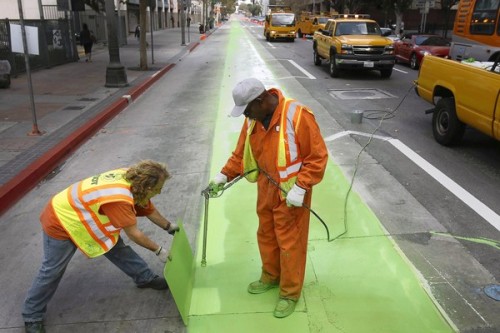 Is something this progressive for Main Street even on Newark's radar? 
Los Angeles Times ~ The latest bicycle lane in Los Angeles has an interesting twist: It's bright green.
The color is aimed at reducing collisions and to help cyclists feel safer on their north-south commute on Spring Street through bustling downtown, where two-wheeled travel is on the rise.
At 1.5 miles long — from Cesar Chavez Avenue to 9th Street — the lane is the first in downtown and the first full-color lane in the city.
"The really exciting thing with this bike lane is it goes right past City Hall. It links with Olvera Street … and down to the downtown core," said Alexis Lantz of the Los Angeles County Bicycle Coalition. "Our leaders will come out and see it every day."
City leaders planned to unveil the lane Monday. Work crews over the weekend, battling a downpour, were able to complete most of the lane with only a few touch-ups outstanding, officials said.
The lane is 6 feet wide and next to a 4-foot buffer zone, leaving an 8-foot parking lane on the west side of the street. Buses are allowed to cross over the buffer and green lane to make a stop but are not permitted to drive along stretches within the area, city officials said. [Continue reading …]