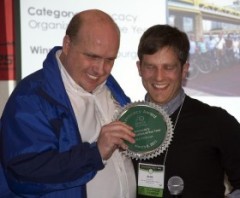 DEADLINE FOR NOMINATIONS: DECEMBER 18
Walkable, Bikeable Delaware 2011 Campaign:
1) League of American Bicyclists: "$5 million dedicated to Bicycling in Delaware — ready to match with federal funds"
2) League of American Bicyclists: "How Delaware made statewide bike funding history with CMAQ"
3) Walkable, Bikeable Delaware
If you'd like to nominate this campaign for the Alliance for Biking and Walking "Winning Campaign of the Year" award, there is a very short (60 seconds) form that you can fill out HERE.  (Bike Delaware's address is PO Box 426, New Castle, Delaware 19720.  Our phone number is (302) 722-4591.)
In 2009, the Alliance for Biking & Walking launched an annual awards program recognizing individuals and organizations that exemplify excellence in the bicycle and pedestrian movement.
The public nomination period for the 2012 awards is now open and will run through December 18, 2011.
One of the award categories is "Winning Campaign of the Year."  This award goes to an organization for a winning campaign, in the last year, which has had the biggest impact for bicycling and walking. Their victory will dramatically increase biking and walking in their state/community or will dramatically shift the way that biking and walking are considered.
Click here to submit your nominations.
Nominations are evaluated by a selection committee composed of Alliance staff, board, and advocacy organization representatives and the winner will be announced at a high-profile reception the first night of the 2012 National Bike Summit.
Nomination Rules
*  Anyone can make a nomination. This is not limited to Alliance members.
*  Anyone can make up to five nominations — limit one nomination per person, per award category.
*  Nominations for the 2012 Advocacy Awards will be accepted until December 18, 2011.
*  All nominations must be submitted by the deadline for consideration.
*  For a nomination to be considered, all fields must be completed.