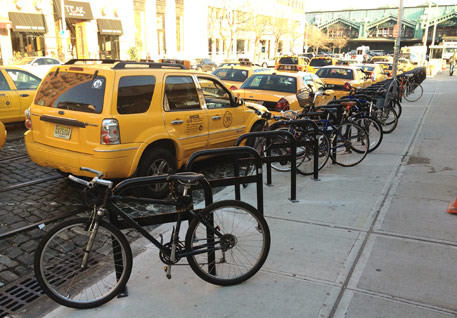 From our friends at Walk Bike Jersey Blog
"Our streets are public spaces that belong to everyone, not just cars," "Every Hoboken resident is a pedestrian, and more than ever, they are also riding bikes to get around. This expansion of our bicycle infrastructure demonstrates our strong commitment to making Hoboken more bike-friendly."  ~ Mayor Dawn Zimmer.
The City of Hoboken has installed its first self-service bike repair station, becoming one of the first municipalities on the east coast with a public bike repair facility. The City has also doubled the number of bike racks near the PATH. The more than 30 new bike racks are available for sponsorship by businesses or residents and will be acknowledged with an engraved plaque adjacent to the bike rack.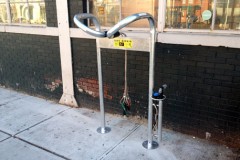 The bike repair service station behind the Bus Terminal adjacent to the PATH has a stand to hold a bike, a hand-operated air pump, and basic tools including wrenches, screw drivers, and tire lever for minor repairs. The bike racks and bike repair station are part of pedestrian and cycling improvements to Hudson Place that began with construction of expanded and rebuilt sidewalks and bump-outs. Street furniture and planters are also planned for Hudson Place.  [Continue Reading …]
Imagine if mayors of cities and towns across Delaware would think this way.