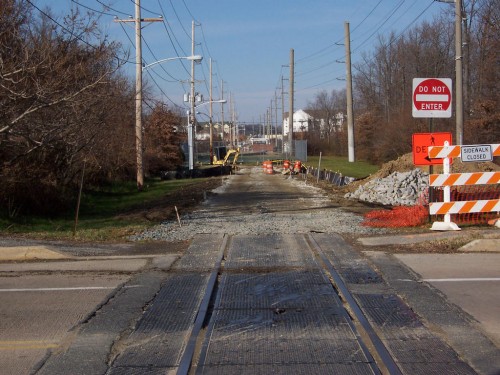 The Pomeroy Rail Trail is well underway. Mild temperatures have construction crews making steady progress, laying the ballast (crushed stone) that will serve as the foundation for this 10′ wide paved multi-use path. When completed, it will ultimately connect Newark's James F. Hall Trail – a "rail with trail" – to the White Clay Creek State Park, making for a complete north-south city bikeway connection (below).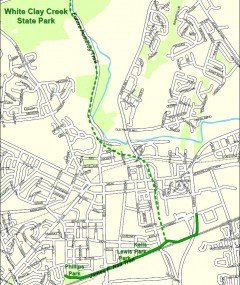 From Wikipedia – The Pomeroy Railroad was completed from Pomeroy, PA, south to Newark and southeast to Delaware City in about 1873. The last passenger trains ran over the line in September 1928, and abandonment for freight began in 1936. By the mid-1940s, it existed only at Newark and north of Chatham. These segments would remain to the end of Penn Central Transportation in 1976, except for a 1960s truncation from Chatham to Doe Run.
The benefits of this rail trail conversion are enormous. University of Delaware Students, many of whom live adjacent to the alignment, will be able to walk or bike to Newark's downtown and campus areas with minimal threat from motorists. Bicycle modeshare, currently at 4.7 percent, also stands to increase as a result.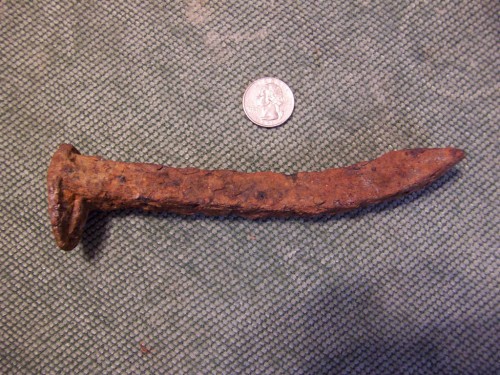 Above:  A spike from the original railroad – possibly over 100 years old – was recovered by the author from debris being removed by construction crews.
A complete history of the Pomeroy Railroad, including abandonment filings, can be found HERE. Read a previous Bike Delaware News article taking us back in time along the "Pommie Doodle" HERE.