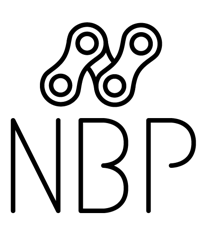 Newark Bike Project Update – meeting scheduled for Jan 6 at new location (details below).
By Niki Suto, Chair, NBP Startup Team – The Newark Bike Project has some fantastic news we would like to share with you: we have a shop! Thanks to the work of our dedicated volunteers, Lang Development Group has donated a temporary shop space to NBP!  It is located at the southwest corner of S. College Avenue and W. Park Place.  We have been given temporary use of half of the former indoor swimming pool room of the old JCC/YWCA.  The address is 318 S. College Ave, and the entrance is on the very northernmost wing of the building facing W Park Place.  We are very grateful for Lang's generous donation to get us started.
As you all know, with successes come additional challenges! We've identified a handful of needs to get this place ready for operation:
*  Tools (several basic tool kits and bike repair stands, plus a full set of tools)
*  Replacement parts (brakes, cables, housing, etc.)
*  Shop furnishings and heavy-duty free-standing storage facilities: shelving units, racks, plastic milk crates, workbenches/tables, counter-height cabinets and tops, and a sofa. If you have any such items, please contact us and send a pic!
 The question now is how can we obtain all these things? Does anyone have any extra storage equipment in their garage, know people that can pitch in financially, or have a bunch of old bikes for us to strip for spare parts? What are the other ways in which we can make this happen?
We will be hosting a meeting at the new shop at 6pm on Friday night, January 6th in order to make plans and clean up the new place.  Please feel free to bring a bike to donate, a broom to help clean up, or a friend to check out the new shop.
We have lots of room for used bikes, and donations can be made by responding to this email or contacting Jamie Magee at: donations@newarkbikeproject.org
For volunteers who wish to formally learn the skills of a bike mechanic, we will be offering a full-day Mechanics Training Course on Sunday, January 15th.  This eight hour hands-on training will be held at the Urban Bike Project's shop in Wilmington. An expert mechanic will lead you through the proper repair and adjustment of all important aspects of a bike: wheels, various brake types, cabling, drive train components, and bearings. You'll leave knowing how to tune up and repair most types of bikes. This course is $40 per person, but UBP is generously donating the training fees to NBP.  So if you wish to make a donation, learn valuable skills, and get to know other NBP volunteers, sign up for this class!  There is limited room (10 people) so please do not delay. No bike required. Exact time to be announced. Carpooling will be arranged.  Sign up by responding to this email or by contacting Niki Suto at info@newarkbikeproject.org
Thank you everyone for all of your help and support, we look forward to seeing you at the next meeting (6pm January 6th at the 318 S College Ave)! Please forward this message to others as you see fit.