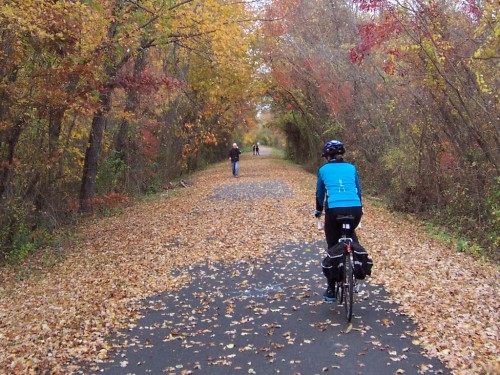 Why in the world would anyone want to hide this?
Dear Bike Delaware,
I have been bicycling as an adult since 1969, was on the original Governor's Bicycle Task Force in the late 1970's and early 1980's, and in 1985 founded Delaware's premier bike event, the Delaware Double Cross. After living in Newark for over 30 years, I moved to New Castle 3 years ago. Late this summer I discovered the Wilmington-New Castle Industrial Trail. It wasn't easy. It is partially obscured from the road and to access it one has to go down to the school lot entrance and loop around. Sometimes this lot is closed with chains across the entrance. After driving by many times, I biked over to see what was there. As there was a football game going on, I had to fight my way through parked cars and a crowd of people. Finally I was able to get to the entrance of the trail and rode it end to end and back.
I truly don't understand how they can build such a delightful trail and then proceed to hide it from view and make accessing it so difficult. A direct entrance from the road with a baffled ramp to keep vehicles out would make the trail so much more useable.
Sincerely yours, – Mr Bubbles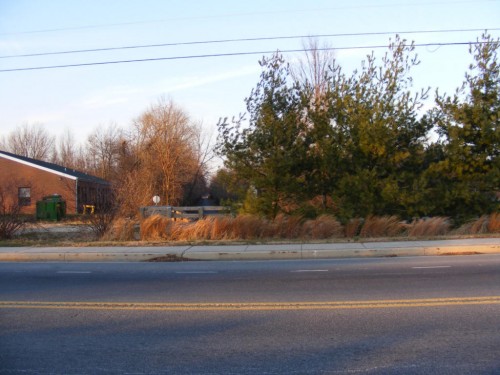 Above: Wooden fencing surrounds the trailhead on the north side of Rt.273 – just barely visible from the road (much less this photo).
Dear Mr Bubbles,
A plan to connect the southern and northern (Phase 1) sections of the Wilmington – New Castle Greenway is rumored to be in the works – the question is when. A particular challenge is ADA (American Disabilities Act) design requirements bringing the oldest section – south of Route 273 – up to grade level for the crossing. This oldest section, built years earlier, simply disappears into the embankment many feet below the roadway.
Bike Delaware is seeking further information from DelDOT on this issue and will report on our website the moment we learn anything.
Thank you very much for contacting Bike Delaware's Public Relations Department.
Take care and ride on,
– Frank Warnock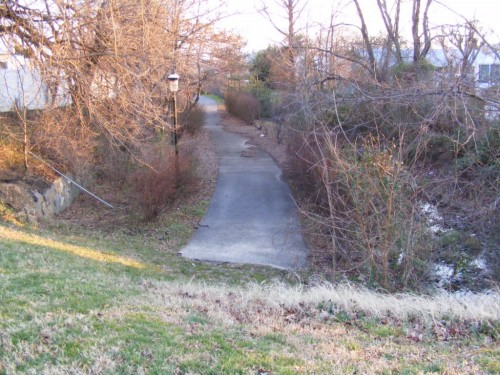 Above:  The original section, facing south at the point it disappears into the Route 273 embankment. Below:  Further south of Route 273 in the Fall. Connecting this section to Phase 1 with a safe non-motorized crossing of Route 273 clearly makes sense.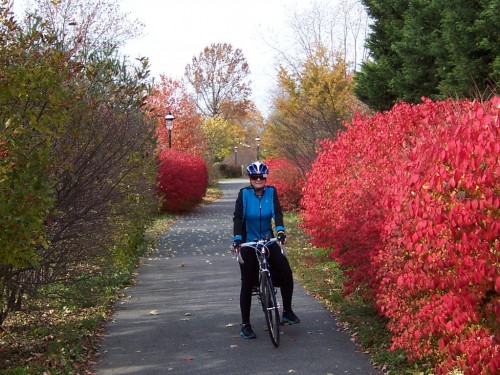 UPDATE:
DelDOT's Jeff Niezgoda has responded to our request for answers, and had this to say:
[DelDOT is] in the process of initiating the design on a project that will construct a multi-use trail facility along Rt. 273 (north side) from Rt. 13 to Ferry Cut-Off Road. The project is also proposing an at-grade crossing of Rt. 273 at the intersection point of the industrial track greenway. A lot of in-house coordination and design is needed to make this idea a reality.
If we are able to get the design started within the next couple weeks and funds are secured for the construction phase we would be looking to start construction around summer 2013.
RELATED:
• 1st Ever CMAQ-Funded Bike Project in Delaware History