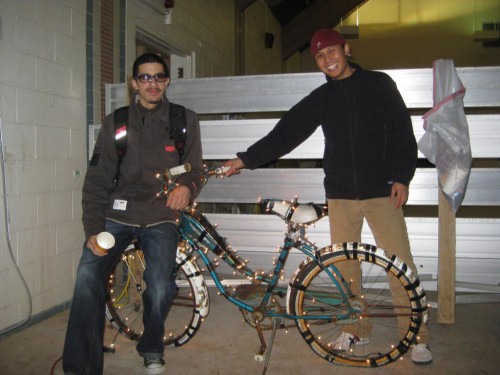 By Angela Cunneely, Membership Director — On Friday night, January 6, Niki Suto and members of the Newark Bike Project welcomed volunteers and guests to their new home at 318 South College Avenue in Newark! The bike shown above, lit with lights, was parked in the front of the facility and made it easy to find. Generously donated by the Lang Development Group, this temporary facility, formerly the JCC/YWCA, is located at the southwest corner of S. College Avenue and W. Park Place. It will provide a space that will house all of the bikes and tools necessary for NBP's successful operations. They have been given use of half of the former indoor swimming pool room, and on Friday night, it was filling quickly with donations of tools, bike stands, furniture, shelving units, and most importantly, bikes in need of care to restore them to full use. Bike Delaware's Frank Warnock and Angela Cunneely were there to share the fun and enthusiasm, as well as the wonderful hot cider,  as Niki outlined her hopes and plans to get things set up quickly.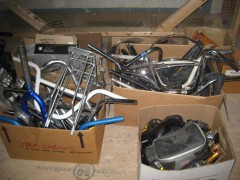 But first, some clean-up of the space was necessary, so on Saturday evening, volunteers returned to help remove trash, sweep up, and tidy the space to get it ready for operation. The mild weather was appreciated as volunteers made several trips to the nearby dumpster and recycling center, and unloaded the bike donations that had been stored in a nearby garage. NBP volunteers Justin and Jamie showed off the donations of tools and bike parts donated by Henry's Bike Shop. It was fun looking at all of the different bike parts, which will soon be used to get the bikes repaired and back in use.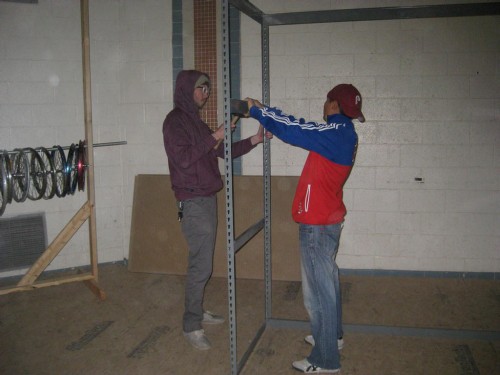 These first two gatherings in the new space were very successful, and encouraging. Although progress has been made, much more remains to be done, and Niki and her crew will continue to welcome donations of bicycles, spare parts, helmets, anything that can them in their efforts. Most importantly, however, they welcome interest and help from the community, so please consider getting involved! We have listed their upcoming events below, please try to attend the ones that you can. It doesn't take much besides your time, and a wish to see this important project succeed. Bike Delaware is proud to be a part of it!
January 15th, All Day: Mechanics Training at Urban Bike Project of Wilmington. Additional trainings can be scheduled if necessary.
January 21st, 11am to 3pm: 1st State Velo Sport Bike Drive. Location: 318S College Avenue. All bikes and parts welcome!
February 6 thru 10, details TBA. UD Move-In Week Bike Sale(s)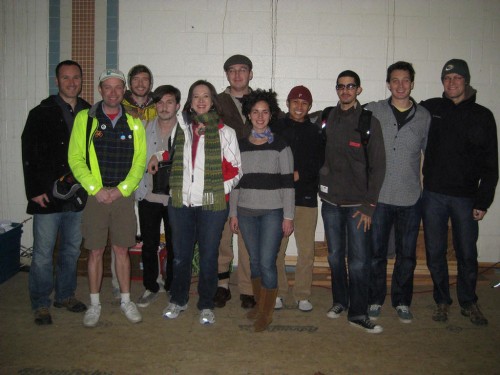 Newark Bike Project volunteers take time out for a photo-op.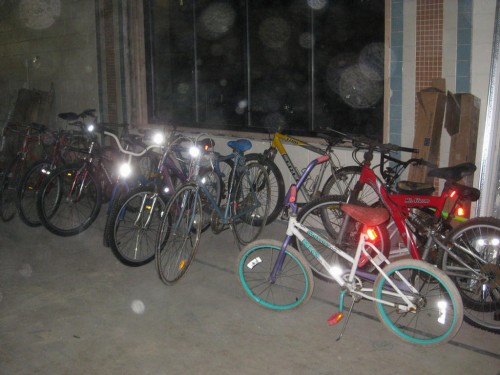 Bike donations are coming in! Note the orbs (dust particles) in the photo, kicked up from the long, exhaustive cleaning process.