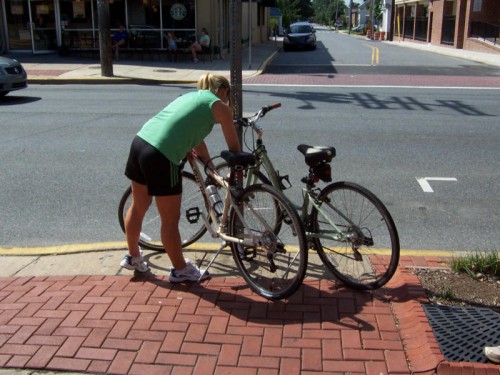 Cross-posted from the Santa Barbara Independent –
Great article, including an analysis of the different lock types and qualities.
By Howard Booth | I've only had one bike stolen. My fault – I didn't lock it. Erika, a few months ago, wrote about her stolen bike and its happy ending. The only happy ending in my story was that the insurance company paid for a shiny new bike.
Erika briefly touched on the topic of locks. I want to delve deeper into the importance of choosing the right tool for the job and, equally important, how to properly lock your bike. If you believe that you can avoid bad things, like having your favorite bike stolen, by not thinking about them, reflect again on the scene in Ghostbusters when the Stay Puft marshmallow man appears.
Let's start with some basic street smarts. For example, if you chose to ride your fancy $3,000 carbon-fiber road bike and park it for eight hours while you're in class or at work – it's likely to be a target of thieves even with the best U-lock or chain. If you'll be leaving your bike for long periods of time, invest in an inexpensive bike that you can feel comfortable leaving all day. Sometimes it's obvious where you shouldn't park.  [Full article …]