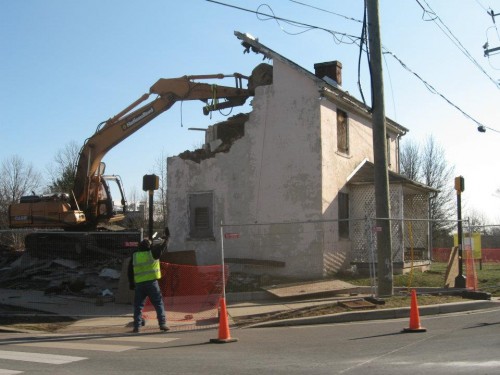 The Murphy House was 170 years old and an important part of our history.  Delaware Greenways had submitted a proposal to partner with the Urban Bike Project to do a basic restoration of the Murphy House for trail users on the Greenway.  Ideas included running a bike share program for the residents of Wilmington.  Nemours turned down the proposal as soon as Secretary Shailen Bhatt withdrew the requirements for Nemours to restore the house that it bought from DelDOT for $10. Follow the story on SaveTheMurphyHouse.org. Photo by Ray Buchta.

Delaware On-Line — Demolition started this morning on the 1840s Murphy House, a historic property that belongs to the Nemours Foundation. The building is at the intersection of Childrens Drive and Rockland Road in Rockland.
The building that once housed employees of the nearby Alfred I. DuPont Hospital for Children came to Nemours as part of a land deal with Delaware's Department of Transportation. Nemours got the lot for $10 and a promise to renovate the building. DelDOT removed that obligation late last month, clearing the way for Nemours to raze the structure. Repeated efforts to preserve the building failed or were rejected by Nemours.
The demolition started within the past hour, according to Nemours spokesman Chris Manning.
Researchers considered the Murphy House eligible for inclusion on the National Register of Historic Places.
"It was historically valuable as one of the few remaining examples of the agricultural architecture of that period of Delaware history," said Dan Griffith, president of Preservation Delaware which had fought to save the site. It also was significant locally as a place where estate and hospital employees once lived, he said. [Article in the WNJ]
RELATED:
• "Save the Murphy House" web site
• 2008 deed restrictions on Murphy House property signed by then DelDOT Secretary Carolann Wicks