Bicyclists in search of bike parking this holiday season found nothing to cheer about on Main Street in Newark. With the exception of a few shabby, widely dispersed bike racks, parking meters and trees are the first choice of Newark's resident and student population who bike for transportation. The City is said to have 16 or more tube racks in their possession, but no immediate plans for their installation. And even if these racks were installed tomorrow, it's going to take a lot more than 16 to satisfy the nearly 5% bicycle modeshare in Newark, which if measured on Main Street alone, would likely be much higher.
Newark has ordinances on the books which outlaw parking of bicycles against trees, car parking meters, and other City furniture. On the basis of inadequate bike parking facilities, however, they are seldom if ever enforced. For this to take place, safe and secure bike parking must be an option at regular intervals for the length of Main Street.
Today, the author found his usual spot – a tree in front of Panera Bread – occupied by this specimen (below) ~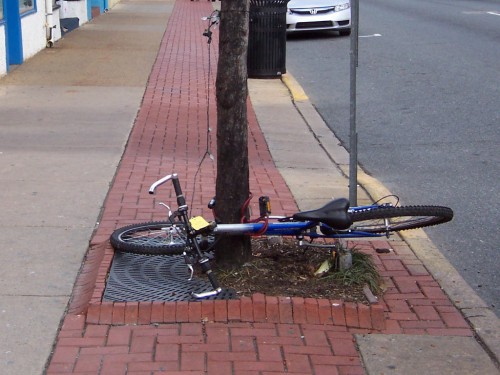 Above:  Note the dangling Christmas lights, broken and tangled in the frame. The front wheel was detached and the bike appeared abandoned.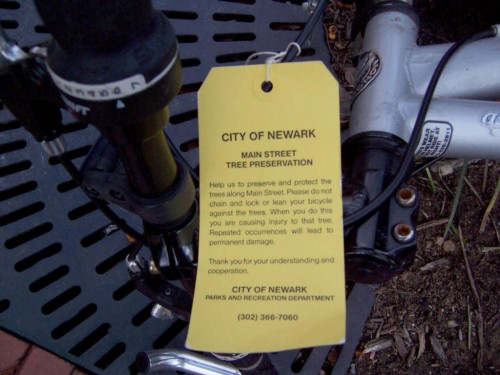 Above:  Upon closer analysis, a yellow tag was found attached to the brake cable, politely explaining the City's desire to protect trees along Main Street, and to please not chain your bike to them.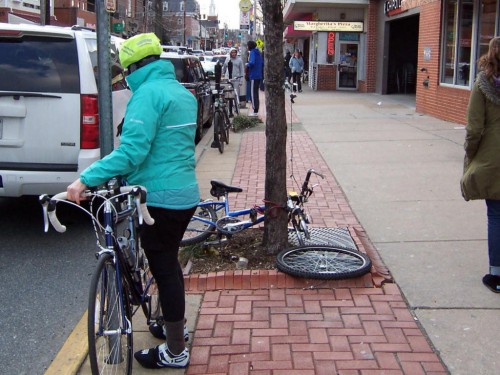 Above:  Even on this cold (31F with wind, to be exact) Winter day in Newark, the lack of adequate bike parking is abundantly clear. The City's concern for trees is well justified, and the notice was politely written, however, until suitable parking is offered, bicyclists have no alternative.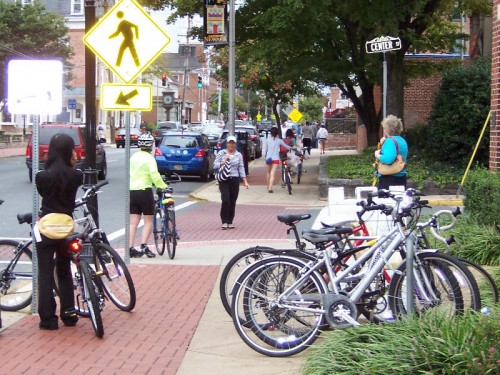 Above:  This photo, taken in September 2009, shows the closest available (legitimate) bike parking to Panera, in front of Walgreens a block away. A rack built for 3, maybe 4 is usually crammed with 5 or 6 falling on top of one another. It is also of the "wheelbender" variety, which can cause instant damage if the bike is toppled.
For Newark to solve its bike parking woes, bicyclists must have safe and secure parking at regular intervals along Main, and other streets that require parking – by all modes. We have made the case that eliminating one car parking space each city block, in favor of parking for as many as 10 bicycles, would provide equal level of service and is far more economical. City planners could enlist the help of homegrown vendors, such as Vintage Metalworks of Milford, DE, for both sidewalk parking as well as the on-street mentioned above.