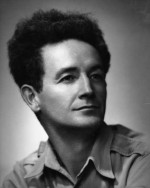 The 2012 Woody Guthrie Bike Ride –
My name is Mike Fink and I'm a Senior History Major at the University of Delaware. This upcoming spring I'll hit the road to combine my two biggest passions, American history and cycling, into a fundraising project for a good cause: the fight against Huntington's Disease. Huntington's Disease (HD) is not as common as Multiple Sclerosis or Diabetes and as a result doesn't garner the same level of public attention they do. It may not be as prevalent, but it certainly has devastating repercussions. HD is a genetic neurodegenerative disorder that causes nerve cells in the brain to wither and die. Because it is autosomal dominant, if just one parent has the affected gene their children have a 50% chance of inheriting the disease. To make matters worse, as HD is passed down from generation to generation its symptoms may start to appear earlier and earlier.
The symptoms of the disease mainly fall into three categories: change in cognitive function, change in behavior, and loss of motor coordination. Symptoms within these categories can be extremely severe. The rate of suicide among people suspected of having or who've been formally diagnosed with Huntington's appears significantly higher than that of the general population; medical studies also suggest that suicide is more prevalent among persons with HD than in populations ailing from other diseases, even other neurodegenerative diseases. Physically, the late stages of the disease cause such severe loss of motor function that even swallowing can become impossible. In fact the leading cause of death among people with HD is a form of pneumonia which develops when foods or liquids enter the airway rather than the esophagus. (You can find all this information and more available at The National Library of Medicine.)
My decision to raise awareness of Huntington's Disease and money for the Huntington's Disease Society of America is inextricably tied to my academic career at the University of Delaware. By sophomore year (2007) I was disenchanted with Marine Biology and the direction of my life in general. When a friend of mine announced that he'd be cycling to South Carolina in the summer, I went with him on a whim and wound up catching two-wheeled wanderlust. I seriously considered dropping out of school and biking until my legs gave out. Instead, I took classes periodically and spent three consecutive summers blowing off steam by biking up and down the East coast with my friends. In the summer of 2009 I rode with two others to New Orleans, planning to stay and work there through winter to finance next year's biking; I'd drop out and finally be free of school and completely independent. Then my bike got stolen, I couldn't find work and I ran out of money.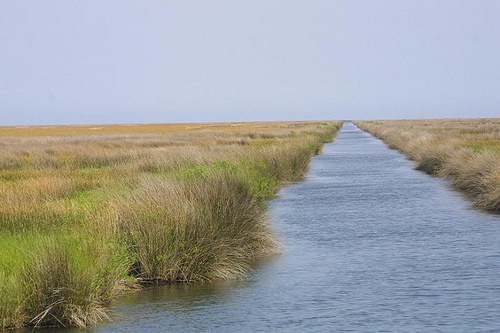 Above:  Taken off the coast of North Carolina below the Outer Banks, summer 2007 with Don.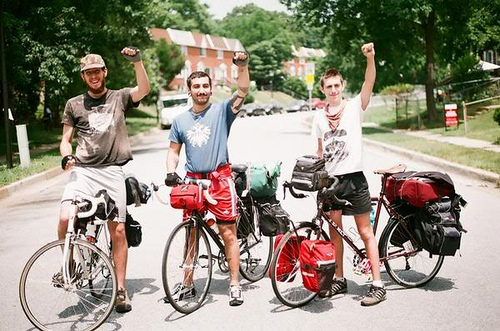 Above:  Madison Ave. crew before the 2008 trip to Maine. Left to Right: Nate, Brian, Me.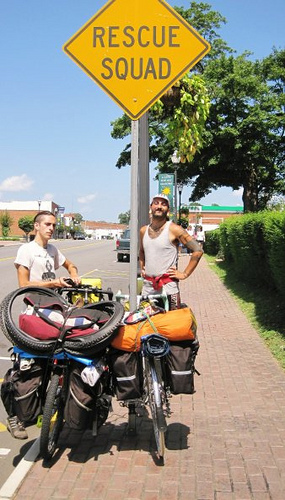 Above:  Erin snaps a picture of Brian and I in North Carolina, on the way to New Orleans in 2009.
I crawled home with my tail between my legs and gave school another shot, changing my major to History as a sort of afterthought. That winter I enrolled in Dr. Johanningsmeier's course on American radicalism. At first all I could think about was the road and the untamed beauty of the American landscape. School was at best a chore. Then something happened. Through the readings and the lectures I started to feel that there was a connection between the wildness of the land and the wildness of the American people, and that this almost spiritual connection could be, if not explained, then at least beautifully rendered by historians. From that point on I dove head-long into American history.
I first heard of Huntington's Disease a year later while writing (again in one of Dr. J's classes) a paper on the American folk music revival and national identity. During the course of my research I learned a lot about Woody Guthrie, a central figure in this cultural and political movement whose life absolutely epitomized the restless American spirit I had found on my bike and in the classroom. His sickness and death at the hands of Huntington's was not something I dwelled on: I didn't know anyone with the disease, I didn't look into it in-depth, and at any rate the next semester would be coming up and I'd switch gears from folk music to some other topic.
Between 2010 and 2011 I didn't go on any bicycle adventures and instead worked at the University of Delaware Bookstore while taking classes full time. As well-acclimated as I became to this routine, I still felt the call of the road and almost out of habit began planning a cross-country bike trip for spring 2012. I wanted this one to be special and drew inspiration and ideas from websites like Crazy Guy on a Bike. At first I focused on creating a route that would take me through important sites in US labor, industrial and music history to give the ride a theme, and then added visits to bicycle cooperatives like the Urban Bike Project and the burgeoning Newark Bike Project—the more visibility such organizations get the better. What I had previously neglected and began to discover was that a number of people were doing long-distance bike rides for charity: Peter Gostelow for the Against Malaria Foundation, Henry and Jamie with Brain Tumor Research and the Multiple Sclerosis Society, and Matt and Andy riding for Warchild. All are doing and have done amazing work on this front, and their stories inspired me to take my ride to that next level.
When I thought about how to achieve this I was drawn back to Woody Guthrie and decided to find out more about his experience with Huntington's. I soon discovered that his widow, Marjorie Guthrie, started a charitable organization to help eradicate the disease that had taken her husband's life. The Huntington's Disease Society of America (HDSA), the organization which sprung from this initial endeavor, funds research towards a cure, advocates on behalf of people with HD, and organizes local and regional support for caregivers, families and individuals with the disease. Digging deeper into the online HD community and researching facts about the disease cemented my decision to raise money for this charity.
After months of work to transform this idea into a reality, I've secured recognition from the University of Delaware, local Newark businesses and the mid-Atlantic region of the HDSA (hopefully this will soon become national recognition!). The trip starts in early April and will probably take around six months to complete with all the ground I have to cover physically and intellectually. Please visit the HDSA website and check out their mission, then go to my FirstGiving page and consider making a donation. 100% of proceeds go directly to the HDSA. If you are a local business or individual who supports this project and would like to help me fund the trip (so far it's all been out of pocket), feel free to contact me at bikinvikin@gmail.com.
Thanks for reading, stay rubber-side down and rollin',
-Mike Fink