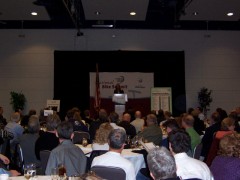 If you never attended a Summit before, and you could only attend once, make it this one. Federal programs used to leverage state and local bike/ped funding are in serious danger, and we need more bicyclists on Capitol Hill than ever before. As has been the case since 2009, Bike Delaware will be there.
Taken directly from LAB's website:
National Bike Summit 2012
Register before February 3 for the early bird discount.
Register for the National Bike Summit by February 3, 2012 to save $100 with the early bird discount. We need every single cyclist on Capitol Hill this March to ensure cycling is included in the transportation bill. If you aren't there, we could go back to the cycling dark ages of 50 years ago. Register today!
National Bike Summit rates
Type of Registrant
Rate
Early Bird
League Member
$475.00
$375
League Member 1-day
$250.00
no early bird
Non-member
$575.00
$475
Non-Member 1-day
$350.00
no early bird
Youth
(under 25)