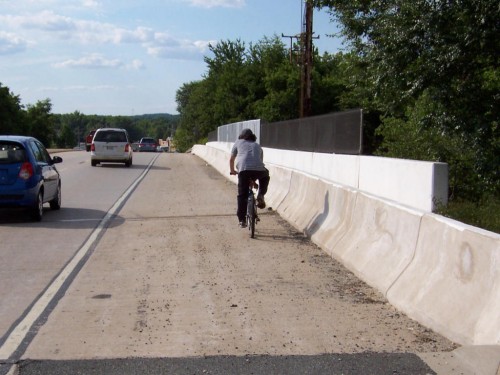 In response to bicyclist's complaints over excessive road shoulder debris, Bike Delaware has been in touch with DelDOT Public Relations. An effort is being made to find out what, if anything can be done to address the most chronic areas in their accumulation of gravel, broken glass, crash remnants, sand, construction materials, etc. It is certainly possible to target those areas more frequently, while reducing or eliminating sweeping operations on roads (or sections of roads) that have little or no curb reflection and generally stay clean to begin with.
An inquiry into DelDOT's approach to road shoulder sweeping resulted in the following from Public Relations:
*  Examples of roads as seen in the photographs are swept as per the NPDES requirements DelDOT adheres to (This would suggest a minimum standard – at best – is being met.)
*  Due to budgetary constraints and manpower issues, they cannot add any additional sweeping unless directed from "higher powers".
*  Primary roads are swept quarterly, secondary roads twice per year, and residential once per year. Most of the photos submitted by Bike Delaware were of secondary roads, or arterials.
*  New Castle County only has 1 or 2 sweepers operating at a given time, and sometimes these are called away to crash scenes, which can cause deviation in the schedule.
Bike Delaware then investigated the policy and approach used by Maryland's State Highway Administration, and learned why cyclists often refer to our neighbor as having much cleaner shoulders than Delaware. The following was the response we received from their Office of Maintenance:
*  SHA realizes the potential for debris to create hazardous riding conditions for bicyclists, as well as become airborne causing injury and vehicle damage.
*  In Fiscal Year 2011 (July 2010 through June 2011), SHA spent more than $1.5 million sweeping the roadways across the state.
*  On average, sweeping is performed along curbs approximately three to four times annually. However, in select small sections where debris accumulation is a problem, sweeping can be performed up to six times per year.
*  Customers may call-in debris problems to SHA facilities or report them on SHA's website. In Fiscal Year 2011, SHA received approximately 400 new service request tickets in this manner.
*  SHA is very proactive in identifying sections of roadway/shoulders with recurring debris issues. Employees take careful notes of problem areas along their assigned routes in their daily travels. Hazardous debris issues are addressed immediately, and the remaining are used to prepare the Maintenance Shop's work schedule for the month.
Below are recent photographs taken along secondary roads in the Newark Vicinity: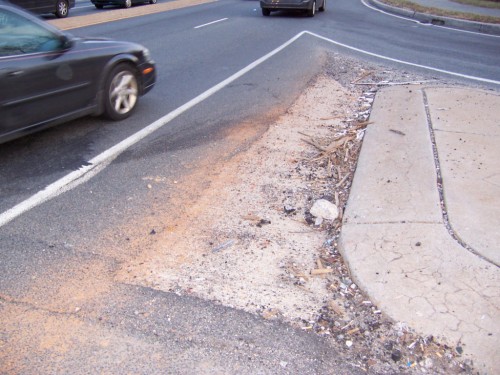 Christina Parkway at Elkton Road. We were informed that Elkton Road was overlooked last year, and the Canal District will assign a sweeper in the near future.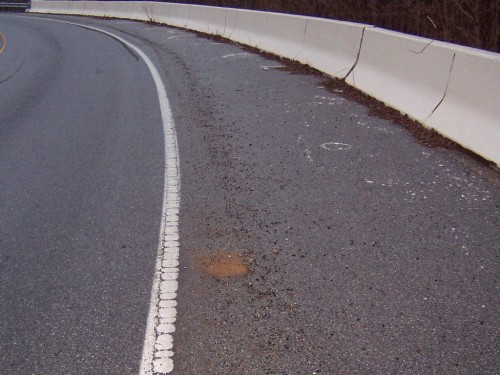 Old Ogletown Road, off of Route 273 east of Newark.
Bicyclists are routinely faulted for riding in the lane despite what appear as safe shoulders from the car, and this is one example why. What we advocate does not involve expanding the schedule or adding sweepers. Instead, given the extreme disparity between these problem areas and those without curb reflection, we advocate for a more targetted, or priority approach to sweeping. Other states use this system and it's very effective in keeping most roads equally debris free. Instead of DelDOT's blanket approach, they rely on the input of sweep drivers and citizens, resulting in an increased schedule for the chronic areas, and a decreased or elimination of the schedule for those which suffer little or no debris accumulation.