A recent argument that was used against on-street bike parking on Newark's Main Street was revenue. That each metered car parking space generates about $15,000 that the City relies on. The rates for parking downtown can be found on Newark's website:
6 days per week @ 17 hours:  102 hours
1 day per week @ 24 hours:  24 hours
126 hours per week x 52 weeks:  6,552 hours
6,552 hours x $1.25:  $8,190

Just with simple math, it comes to roughly half the amount claimed. Now, this assumes a car is present the entire allowable time. Since we have no numbers on the average time that a car is present and the meter is running, let's just assume it is 2/3 (this is being quite generous, but to be safe…).  We can now reduce this amount to $5,460. Then we have the hidden costs of metered car parking, such as enforcement, environmental impacts, and quality of life issues associated with excessive automobile use. What about the immeasurable value just in terms of reducing car trips in the City, especially those 2 miles or less, which account for approx 40% of all trips? So really, what is the actual revenue of a metered parking space in Newark? And is the City including parking tickets in the meter revenue? If so, it would take at least 1 ticket per day – every day – on each meter just to raise it to over $10,000 per year, and this still does not include the hidden costs above.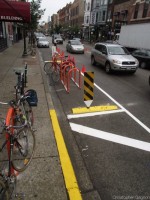 We remain hopeful that City Council, and those they appoint to make decisions for us will re-think their stand against equal level of service for bicycles and sustainable transportation. This includes bike parking at regular intervals along Main Street, along with right lane Sharrows for the entire length just outside the door zone. The benefits of reducing automobile congestion in a downtown in favor of walking and bicycling are too numerous to mention.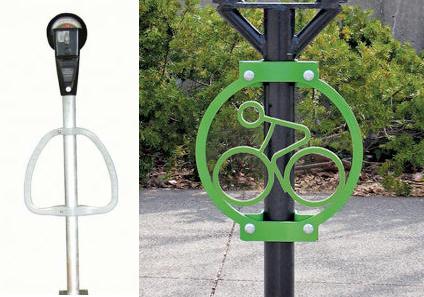 If the city wanted to get creative, they could cheaply retrofit existing meters for safe and secure bike parking.