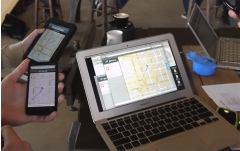 Cross-posted from Bike Portland –
A few years ago, I called a GPS bike tracker the "Holy Grail" of bike theft. If someone could just develop a discreet, affordable GPS device that would allow someone to track their bike after it was stolen, I thought, we would have a potent weapon against the scourge of bike thieves.
Now a Portland company says they've done just that.
"… a GPS-cellular device, covertly attachable to bikes, that will alert owners if their bike moves when it is not supposed to and track it if stolen. A BikeTrak [software] app will send the bike's location directly to a map on your cellphone and a report button will allow you to send a picture of your bike, serial number and other data directly to the police along with a hot map of the bike's location. You may also set up to have the theft information sent to your neighborhood watch group or cycling group, etc."  [Continue reading…]