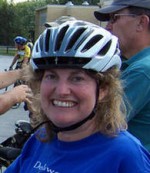 By Amy Wilburn, Chair, Delaware Bicycle Council –
Once upon a time, DelDOT created a "funding pool" exclusively for bicycle and pedestrian projects.  The amount of money set aside varied from year to year, but it sometimes totaled in the millions.  Some excellent projects, including the Paper Mill Road bike lanes, were funded by this pool.  Alas, in 2006, the pool was defunded.
Since that time, we've made a good deal of progress in Delaware.  We have Complete Streets, the First State Trails and Pathways Initiative, and protective legislation.  It is still too often the case, however, that a short section of roadway that is unsafe or unusable for cyclists or pedestrians prevents the use of an otherwise viable route.  We lack funding for many of the smaller projects that serve as "glue" to connect usable roads, Complete Streets projects and MUPs/trails in order to create a viable transportation network.  As a result, smaller projects that could provide immediate benefit have to wait until they can be addressed through larger projects with a different focus, often many years in the future.  And a number of these smaller projects simply slip through the cracks.  The new larger scale projects are great, but to create networks, we must use our already existing infrastructure.  It is both necessary and cost effective to do so.  A brief query of municipal plans suggests that over 70 projects would benefit from this type of funding pool.
By re-establishing bicycle and pedestrian funding pools, we will give communities a stronger voice in determining the greatest need, make better use of our existing infrastructure, and add value to our trails and pathways.  Filling in this gap will help bring active transportation and lifestyles to the communities where we live and work, and will also benefit those who have no choice but to bicycle or walk to their destinations.
Re-establishing the funding pools is no fairytale.  We have the power to fix the problems faced by cyclists and pedestrians, just as we correct problem areas on behalf of motorists.  The Delaware Bicycle Council recently submitted a proposal to Secretary Bhatt and Governor Markell requesting that the funding pools be re-established.  Stay tuned. . . . . . .
Amy Wilburn is the chair of the Delaware Bicycle Council and the 2011 Delaware Bicycle Advocate of the Year.