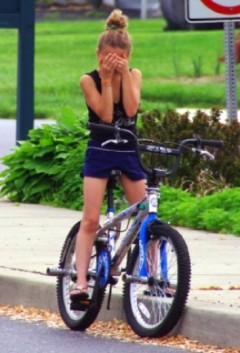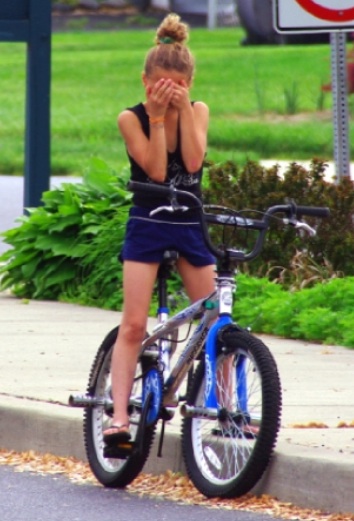 Undoing or ameliorating the results of decades of bad design decisions that have produced our pedestrian and bicyclist unfriendly 21st-century built environment is hard work.  Not only is it (sometimes) expensive, sometimes it's also just hard to see that change is even possible.  Like the little girl in the picture at left in Birchwood Park looking out at the intersection of Route 273 and Brownleaf Road east of Newark, many of us have never experienced anything else.  It can be hard to see our built environment as the result of human decisions (and, unfortunately, far too often, very poor decisions).  Sometimes the only way we can see the necessity of change is when tragedy – like the death of Michael Gropp – forces us to see.  But even that is not enough by itself to produce change; it also takes leadership that will not quit.
Senator Karen Peterson (D-Stanton) has been a leader who would not quit.  "The death of Michael Gropp in 2010 and the very serious accident involving Kelly Tracey in 2011 both at the intersection of Route 273 and Brownleaf were senseless tragedies," Senator Peterson recently said.  "Along with my colleagues in the legislature, DelDOT, WILMAPCO and Bike Delaware, I have been working hard to improve safety at this intersection for several years.  Crossing an 82 foot wide road where cars and trucks frequently travel well over the posted speed limit is challenging enough for pedestrians.  We should not also force them to do so in the dark.  That's why I am particularly pleased to congratulate DelDOT for its recent commitment to light the 273/Brownleaf intersection.  Now when pedestrians cross this intersection at night they will be visible to motorists."
With encouragement from Senator Peterson and many others, DelDOT recently gave the go-ahead to Delmarva to install roadway lighting at the intersection of Route 273 and Brownleaf and to fund the ongoing electric costs.  DelDOT's decisions to install lighting  are guided by an internal policy document (its lighting "warrant", last revised in January of 2010).  Unfortunately, like Delaware's built environment itself, this document also was not developed with either pedestrian or bicycle user safety in mind.  Nor has the policy been revised to be "Complete Streets" compliant.  "Our current practice is to consider roadway lighting for pedestrian and bicycle safety purposes on a case by case basis," noted DelDOT Assistant Chief Traffic Engineer Mark Luszcz.  "We are not currently working on modifications to our lighting warrants.  This year, FHWA is expected to publish an updated version of their Roadway Lighting Guidelines.  These guidelines may include new/updated recommendations for lighting warrants.  We plan to wait for that publication, review it, and then determine a path forward from there."  DelDOT has given input to the FHWA for its revision.  (In fact, DelDOT is so far the only state DOT in the country to have submitted its comments to the FHWA.)

When Michael Gropp was killed in 2010 – and before there were any details of the circumstances – there were many comments and questions directed at the victim.  What was he doing out so late at night on a busy road?  Isn't that suspicious?  It turned out that there was actually nothing suspicious going on.  "Michael Gropp", Senator Peterson reminds us, "was walking his girlfriend home at about 10PM when he was struck and killed crossing Route 273 at Brownleaf.  He lived in a subdivision on one side of Route 273 while his girlfriend lived in a subdivision on the other side of Route 273."  But at a certain point, we start to forget that we have even made decisions to narrow our choices about how we can experience public spaces.  Those decisions become invisible and we take our built environment for granted.  We make rules to try to cope with the consequences.  And we blame each other when someone is killed or injured, when the real people we should be blaming – the ones who made the decisions that created the built environments that kill children – probably have been dead for decades.
What's the next step?  Senator Peterson says that "by adding lighting, we have taken a major step to increase pedestrian safety at this intersection.  [But t]here are a couple of other things that DelDOT can also do.  Both pedestrian islands and pedestrian-friendly signal timing have also been shown to save lives and increase pedestrian signal compliance.  I will continue to work with DelDOT on these additional safety measures.  We need to do everything reasonable that we can to make sure that no other families in these communities ever again suffer the loss of a child for no other reason than that they were simply trying to cross a road."
RELATED:
• Improving Nonmotorized Safety and Mobility with Infrastructure at Arterial Road Signalized Intersections
• 16 year old killed while crossing Rt.273 on Bike Rt.1
• Another Pedestrian Struck at Rt. 273 and Brownleaf Road
• Who Will We Blame This Time?