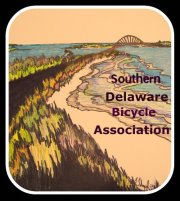 We welcome the arrival of a new bicyling advocacy organization out of Sussex County, called the "Southern Delaware Bicyclists Association"!
The following statement can be found on SDBA's Facebook page:
"This is a page dedicated to people who bicycle in Sussex county Delaware and the Eastern Shore area in DelMarVa. This not a bicycle club, however it is a place where folks can meet; discuss issues of the day, and the local happenings in Lower, Slower, Delaware. This is a page where perhaps we can set up some events or simple rides around the Rehoboth, Bethany, Lewes, and Dewey beach areas."
Visit their Facebook page, and give a hand to the Southern Delaware Bicyclists Association in their new endeavors to promote bicycling and advocacy in lower Delaware!