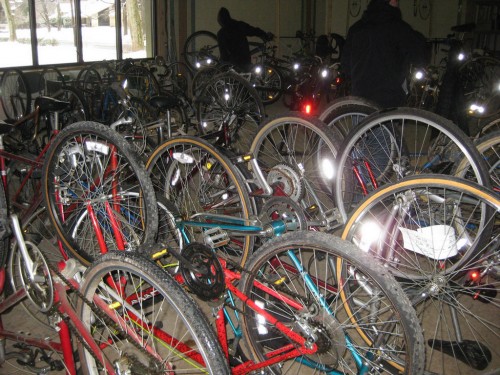 Newark Bike Project volunteers have inspected and tuned-up dozens of community-donated bicycles, which will be for sale at affordable prices on Super Bowl Sunday, February 5, from noon until 6 pm at our temporary location, 318 S. College Ave in Newark (at the corner of Park Place).
A wide variety of mountain-bikes, road bikes, touring bikes and
fixed-gear cruisers are ready to ride and are available to new owners.
Most bikes will be priced between $20 and $200 (all bikes are sold as
is, cash only).
Proceeds from the bike sale will support the Newark Bike Project's bicycle safety and repair education programs, and will help this fledgling nonprofit purchase needed tools and supplies.  Visit NewarkBikeProject.org for more information about upcoming events, educational programs, and to donate your unused bikes and bike parts.