From the wire:
"I just started commuting to work and in reviewing safety and law information videos online, I still have one question. When riding along the road and approaching a right turn-only lane but not at an intersection. Do I A: stay to the far right still and motorist behind should slow and turn after I'm clear. B: ride safely near the left of the lane and let the car behind pass on the right of me since they are turning? I've seen a video of this online but still don't know where to ride. Thanks!!! I look forward to your response! 🙂"

Bike Delaware has no official recommendation, only because conditions vary and each situation can be unique, i.e. lane width, length, posted speed limits etc. However, studies do show that staying in the center to left portion of a right turn-only lane (RTOL), even at driveways and non-intersections, maximizes safety and discourages right-hooking. Most dedicated turn lanes are 10′ or 11′ wide, and placing yourself in this position takes at least 3′ of that space, with the remainder too narrow for a car to pass on your right. A true bike lane, on the other hand, delineates at least 4′ for bikes and leaves the entire 10′ to your right for a car. This way, drivers are much more inclined to fall in behind, then maybe come up on your right and turn right as they decelerate – as if you were another car. While this may not be comfortable for everyone, it is statistically the safest choice where RTOLs exist.
"The other reason I asked is because I did just that. Rode to the left-most side of the right turn lane near the dotted entry line and a turning car behind me honked, then passed me and turned. Gotta love impatient drivers!!! :)) I've also attached a pic of a lane as an example. Green is where i was."  ~ James Wylie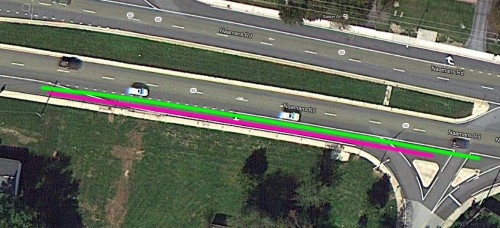 You basically took the position of a standard bike lane or shared pocket lane, had one been present. Bike Delaware has made this a signature campaign issue, in the interest of safety for all road users.
What you describe is an ongoing problem for anyone who gets around by bicycle, some with fatal or life changing consequences. Even the simplest striping modifications, or use of symbols or lines can increase safety dramatically – for everyone if properly designed. Drivers tend to approach these RTOLs differently and more carefully because bicyclists are given a defined space on the road. On the contrary, entering a RTOL with no such provisions is to impede or get in the motorist's way, and with most in a rush to put out a fire it seems, intolerance and road rage can seriously dampen or end bicycling for some folks.
Our recent effort to at least open or dash solid white taper lines, to allow bicyclists a clear path where the shoulder or bike lane transitions to a RTOL, has been denied by DelDOT. But this campaign will continue. We are currently waiting for a few design options to clear research and testing at the University of Delaware. Hopefully, with the help of a few friends and allies in the department, they will make their way into the Delaware MUTCD.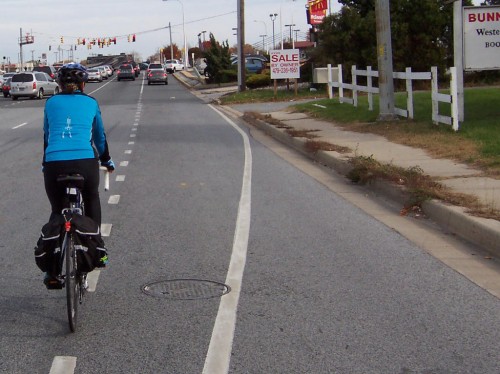 Above:  Angela Cunneely, Bike Delaware Membership Director, tackles Hare's Corner. Bicycling through right turn-only lanes that accommodate only one user group (fast moving cars) can be a nightmare for anyone doing their part to reduce auto dependence and live a healthy active lifestyle. Dealing with this – especially with multiple lanes of traffic – is not for the faint at heart.