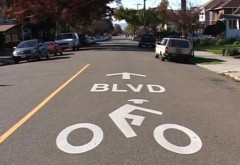 The City of Rehoboth Beach Streets and Transportation Committee will discuss a presentation by Delaware Greenways regarding a Pedestrian/Bicycle Plan for the city on Saturday, February 18.
WHERE: 229 Rehoboth Ave, Rehoboth Beach, Delaware 19971 (Commissioner's Meeting Room downstairs)
WHEN: 10AM, February 18
You can see the bicycle plan HERE.
The proposed plan is notable for its inclusion of bicycle boulevards.  Bicycle boulevards are low-speed streets which discourage cut-through motor vehicle traffic using traffic calming strategies, but encourage bicycle traffic.  They are enormously popular and effective in places like Portland and Berkeley.  If Rehoboth Beach adopted bicycle boulevards, these would be the first in Delaware…and possibly the first on the entire East Coast.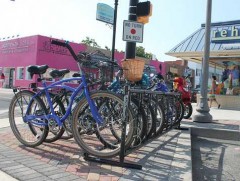 Featured in delmarvanow.com
REHOBOTH BEACH — Progress is being made on the city's bicycle and pedestrian master plan study, and the public is invited to see what's been happening during a public workshop Feb. 18.
Jeff Greene, project manager at Delaware Greenways, said everything is right on schedule. He presented the challenges facing bicyclists and pedestrians, as well as potential improvements for Rehoboth streets, to the Board of Commissioners at its Feb. 6 workshop.
Those challenges included a lack of east-west bike routes other than Rehoboth Avenue, education of tourists and residents, Silver Lake Bridge, the connection between Scarborough Avenue and Schoolvue, and crossing Route 1, Greene said.  [Continue reading …]
RELATED:
• Presentation of Draft Infrastructure Recommendations for Rehoboth Beach