Compliments of Steven Faust, AICP, Brooklyn, NY –
THESE ROADS are exactly what we don't want to see.
We are very fortunate in Delaware to have a DOT that is conscience of bicycle safety when it comes to rumblestrips. Unfortunately, this is not the case in nearby Pennsylvania on many of its state roads that are popular for biking.
Maryland's State Highway Administration recently came on board with bicycle-friendly rumblestrips. This after a disasterous installation on Route 273 in Cecil County, just up the hill from Newark.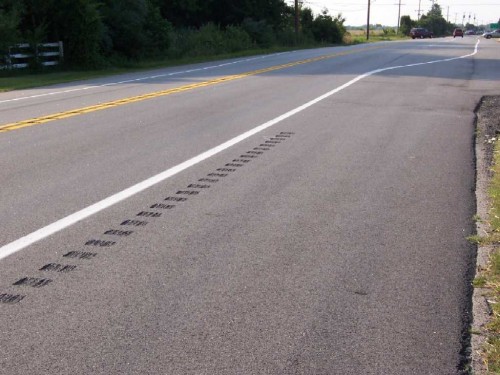 The example above on Route 213 is a designed for posted speed limits 55 mph or greater. Despite breaks only at the intersections, they are narrow with shallow enough dimples to cross in and out of the shoulder with minimal disturbance.