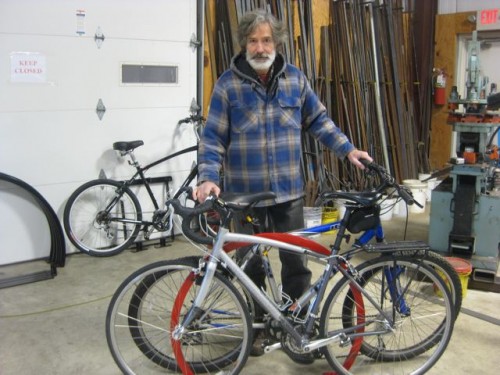 By Angela Cunneely, Membership Director —
On a recent cold early Sunday morning, I headed south to Milford to visit with Steve Curtis (above), President of Vintage Metalwork, Inc. I first met Steve at the Delaware Bike Summit in Lewes, where he had one of his brilliantly designed and beautiful bike racks on display. Steve has a Masters Degree in Historic Preservation, including materials conservation from the University of Pennsylvania and was schooled in traditional ornamental metalworking in the United States and in Europe. His knowledge of metalwork and historic preservation and conservation is impressive and extensive. With his son Nicholas, also extensively trained, and other family members, Steve and Vintage Metalwork provide products that are beautiful, functional, and dignified. What impresses me so much about Steve, and Vintage Metalwork, is their dedication to preserving history, while solving some of life's very contemporary problems, such as where to park a bicycle safely and securely.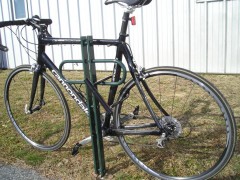 With bicycle parking desperately needed in Newark, I wanted to investigate further, and visit the shop where these beautiful creations were brought to life. The shop is large, clean, and stocked with many works in progress. Vintage Metalwork is a family-owned business, established in 1997 to provide a service dedicated to the revitalization of historic ornamental metalwork through restoration, rehabilitation and reproduction. Their goal is to keep the art in traditional metalworking alive by creating hand-made products that are steeped in tradition yet contemporary, viable and of a quality that will endure the urban landscape.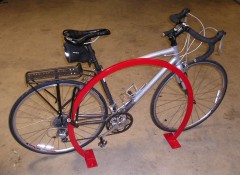 Vintage Metalwork applies traditional means of metalworking, such as blacksmithing. They also apply the latest in metalworking technology to design and produce timeless site furnishings. With that goal in mind, they have designed hand worked solid steel bike racks that are both functional and beautiful. In addition to restoring original pieces, they recycle and re-use metals, also.
With gas prices increasing, and more cyclists choosing to commute and visit Main Street in Newark by bicycle, it is obvious that a solution must be found to the lack of parking that is now a problem in the downtown. Steve's beautiful and practical designs would not only provide Main Street with bicycle parking, but they would maintain the dignity and landscape that residents have come to associate with their hometown's heart.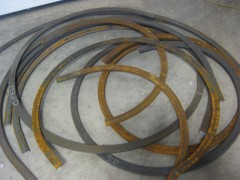 But creating beautiful bicycle racks is not all that they do. Vintage Metalwork also design unique pieces to surround and protect trees, and they have worked on extensive restoration projects including one of Governor's Island NY, which, being from NYC, I was particularly interested in. Vintage Metalwork was tasked with the metal work restoration work for Castle Williams during the National Park Service's 2010 stabalization of the castle.
No job is too small for Vintage Metalwork! They recently installed this bike rack at the New Castle home of Bike De's Executive Director, James Wilson. Beautiful and functional, it fits in with the historically preserved homes that characterize Old New Castle.
Thanks to Steve for agreeing to meet early on a Sunday, and for braving the cold weather to show me around! It was an interesting and informative visit!