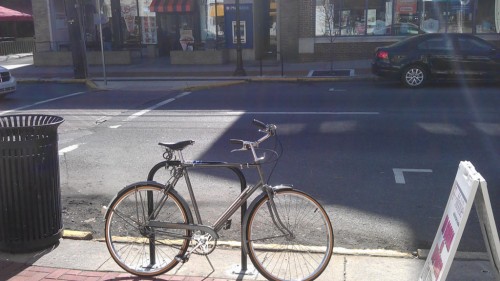 Bike Delaware members have reported seeing some additional bike parking being added along Newark's Main Street. While anything at all is welcome by the bicycling community – ranked among the nation's highest in modeshare at 4.7% (likely higher on Main Street) – it will take more than a few "yellow zone" tube racks, pictured above. While we applaud and are grateful for the City's efforts to isolate and use whatever sidewalk space is available, it would be unfair to ticket bicyclists until regular provisions are made available, even if it comes at the expense of a few car parking spaces, such as on-street "corral" parking.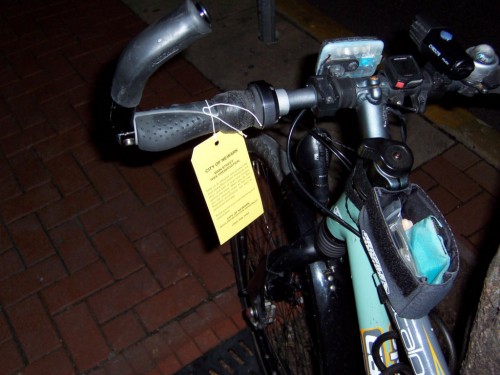 Above:  The author was ticketed last night for parking on a tree in front of Panera Bread. While politely worded about tree preservation – totally understood – the nearest (newly installed) tube rack was about 30 yards away, in front of "Gecko", and in use.
Some good news:  A member of the Newark Bicycle Committee has been meeting with the Newark directors of Planning, Public Works, and Parks and Recreation to show them custom bike parking solutions developed by Vintage Metalwork of Milford, DE. Responses have been favorable. If approved, they will be presented to other municipal committees in the beginning of March. Planners are aware of individual Merchants that might be willing to invest in bike parking as well. All of this tells us that the City is seriously moving toward a green, bicycle-friendly initiative that can only help Main Street's traffic woes – and for that we are grateful.
The sooner we can get parking installed along Main street, the sooner others will see the benefits first hand, and hopefully be more willing to join forces. This will hopefully lead to enough bike parking at regular intervals, at which time the city can legitimately begin enforcing its "no bike parking on trees or other city furniture" ordinance.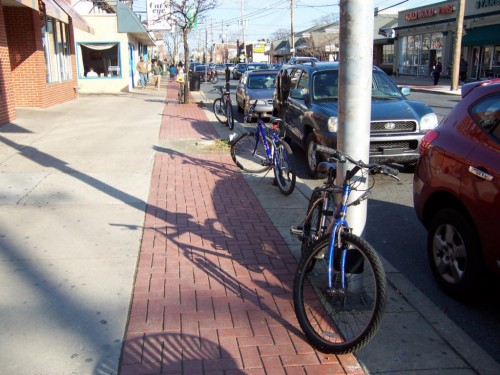 Above:  Yesterday's scene out front of Panera Bread on Main Street in Newark. It would be unfair for the City to ticket any of these folks until equal or better bike parking capacity is installed.