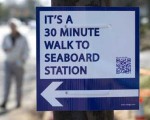 Newsobserver.com, Raleigh, NC — City Planning Director Mitchell Silver was strict but sensitive when it came time Wednesday to enforce the rules against posting a sign without a permit.
He praised a civic-minded guerrilla campaign by graduate student Matt Tomasulo, who put directional signs at downtown street corners to promote the act of walking. Then, gently but without apology, Silver said the signs would have to come down.
"You have to go to the City Council for an encroachment permit, and it's something we can authorize," Silver said. "But you can't just put up signs."
Each sign is simple: an arrow, a destination and the time it takes to walk there. And there's a special scan code that pulls up directions on your smartphone.It's 17 minutes by foot to Oakwood Cemetery," said one of the small signs posted at the corner of Wilmington and Hargett streets.
Tomasulo and friends posted them on utility poles at the intersection about five weeks ago, and at two other corners near Cameron Village and N.C. State University. The signs announced walk times to parks, museums, the Amtrak station, Chavis Park, Glenwood South and other destinations.  [Continue reading…]
Story with video on BBC News HERE.