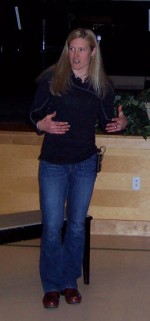 The White Clay Bicycle Club's annual banquet this year could not have picked finer keynote than Katie Compton. Katie was interviewed by Katrina Dowdichuk, who recently won the 2012 UCI Masters Cyclocross World Championships.
Katie grew up in Newark, Delaware in an athletically inclined family. Her father, Tom, has served as the ride chairman of the WCBC and later as President of First State Velo Sports. Her mother, Deborah, started running after Katie was born to lose weight and has run 40 + miles/week since then. She has won many Delaware state running events, but says her greatest athletic achievement is that she is still running.
Katie started racing road bikes as a child. When she was a teenager she raced mountain bikes and for a while was a member of the Wooden Wheels team. She has also raced for the Trek Cycling team and has raced at the Trexlertown Velodrome. She graduated with a BA degree from the University of Delaware in Exercise Science. After graduating, Katie coached for Carmichael Training Systems and has more recently coached on her own. She is married to Mark Legg from New Zealand who has been involved in bicycle racing since he was 14.
Katie has won the USA Cycling Cyclocross National Championships Elite Women's title every year from 2004 to 2010, and in 2012. She has also raced on a tandem with a blind partner, Karissa Whitsell in Paralympic events. Katie, the sighted team member, pilots and pedals the tandem in the captain position while Karissa rides in the rear, stoker, position. They were dominant in the 2004 Paralympic Games, winning medals in every event they entered and setting a world record in the 3 km pursuit event.  [Continue Reading…]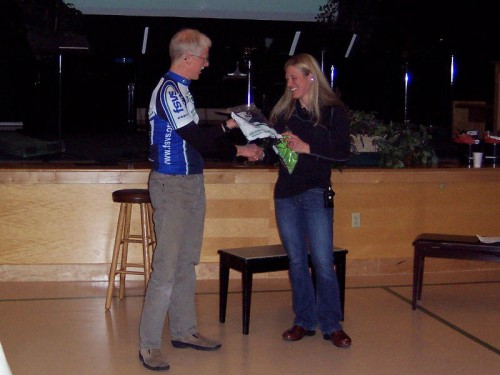 Above:  Katie receives a complimentary 1st State Velo Sport team jersey from Roy Simonson.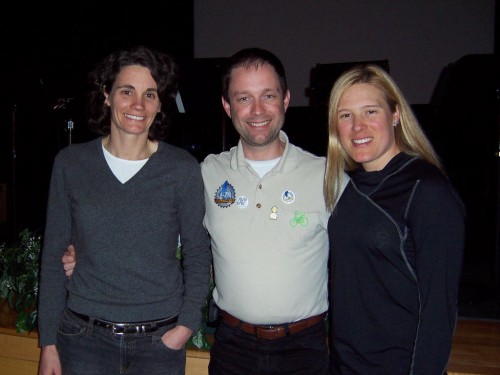 Above:  Frank Warnock, center, flanked by Katrina (left) and Katie (right) after the interview wrapped up.
Every year in February, WCBC features a special guest. Last year it was Keith Laughlin of the Rails to Trails Conservancy.