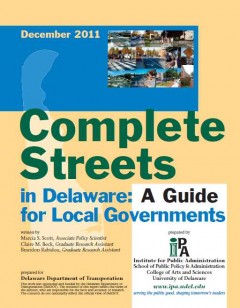 Complete Streets in Delaware: A Guide for Local Governments is a new on-line and downloadable publication by the University of Delaware Institute for Public Administration (IPA).  This document is intended to help Delaware towns, cities, and counties achieve complete streets in order to provide more balanced transportation systems and to create healthy, livable environments for pedestrians, bicyclists, and transit riders of all ages and abilities.
Local governments can use this resource to evaluate the extent to which their community vision, plans, policies, design standards, and facility maintenance practices are consistent with complete-streets principles.
View the guide in PDF
(approx. 20M download).
RELATED:
• Can a Stroad Ever Be a "Complete Street"?
• "Complete Streets" = Routine Accommodation
• 100 Years Ago: How Dupont Highway (Rt 13) Was Supposed to Have Been Designed
• Senator Peterson Praises DelDOT for Improving Pedestrian Safety
• The Important Difference Between a Road and A Street
• Wider. Straighter. Smoother. Faster.
• Do Conversations Like This Still Happen in 2011?
• First, Do No Harm to Pedestrians and Bicyclists