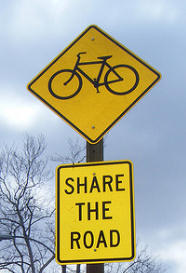 It seems lately that the secondary "Share the Road" tag (typically placed below the bicycle insignia sign) is being left out, or gone missing on new and old sign installations alike. A call to Anthony Aglio, our trusted DelDOT Bicycle Coordinator, explains why:
"I have been making this request for some time and [the Traffic Dept] agrees. Most drivers misinterpret the "Share the Road Element" and technically, the signs w/o the STR also indicates that cyclists may be crossing or entering the road along these corridors."
There have been some very compelling arguments against STR in recent years. Among them is the attitude that every road or path user is an owner, and that they're having to give something up. Many advocates would like to change this from "What am I giving up?" to "What do we need to do to reduce conflicts and improve safety," with an emphasis on the "we." And as Anthony suggests above, there have been several incidents where the motorist believed that the "share" part was exclusive to bicyclists.
In the words of Bike Delaware's Executive Director James Wilson, "If this is true, we say "it's about time" and "good riddance."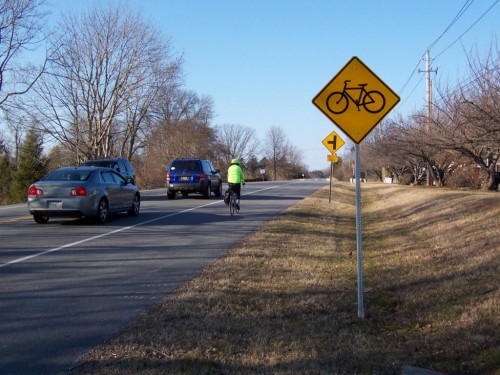 Above: Polly Drummond Road, Pike Creek. This is more like it. Bicycles are present. Period. End of interpretation.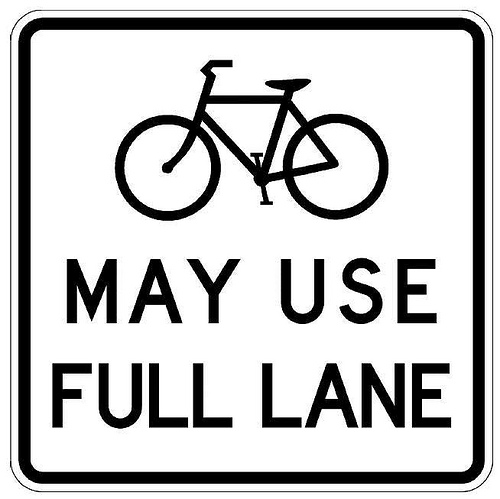 The real deal. We look forward to these – perhaps in conjunction with sharrow markings and traffic calming.
RELATED
• WashCycle: Is it time to retire "Share the Road"?