* * * YOUR PARTICIPATION IS CRUCIAL * * *
Submit roads, sections of roads, or intersections that have chronic debris problems. Please provide as many details as possible, including exact location(s). Email: sweep@bikede.org
We are happy to announce that DelDOT's Maintenance and Operations Division has shown an interest in sweeping reform. Currently, most roads in Delaware are swept as per the NPDES requirements that DelDOT adheres to. This would suggest that a minimum standard is being met, but nonetheless, sweepers are out there somewhere on a regular basis. They're just not on a system that places more emphasis on areas that are more prone to debris accumulation. That may be changing soon.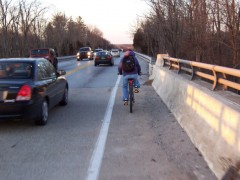 Most of the photos used to present our case were taken along secondary or arterial roads, and in "reflection" zones, where debris collection is a chronic problem. Put simply, reflection zones can be curbs, islands, barriers, or anything else roadside that contains debris within the shoulder, instead of allowing them to scatter off from passing traffic.
Suggestions emailed to sweep@bikede.org will be reviewed and considered for a schedule increase by DelDOT's Director of M&O. While we cannot promise that all will receive equal attention, this is a huge step forward in bringing Delaware closer in line with our Maryland neighbor when it comes to a system of prioritized sweeping.
It is important to understand that, while DelDOT controls about 90% of our roads and highways, incorporated zones may not be under the state's jurisdiction in matters of maintenance. In these cases, sweeping is likely the responsibility of city or township officials and may be taken up as such. For now, we will be focusing on those that are within DelDOT's jurisdiction.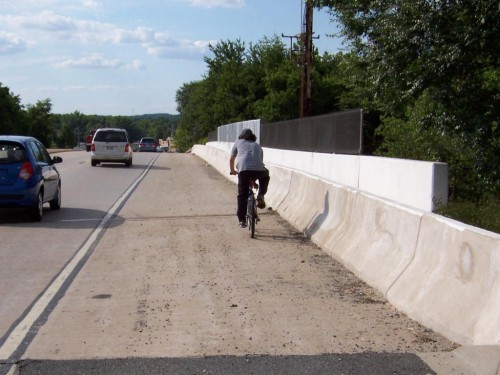 N. Otts Chapel Road is a very popular bicycle route en-route to Newark, yet due to infrequent sweeping, curbed sections like the above remain littered with gravel and debris for most of the year. We will surely recommend this one for a schedule increase.