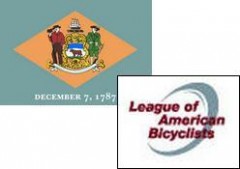 By John Bare, BFS Coordinator –
Each year the League of American Bicyclists (LAB) ranks the 50 states according to its Bike Friendly State (BFS) criteria.  These criteria can be wrapped up in LAB's five scoring categories or 5 Es: Engineering, Education, Encouragement, Enforcement, and Evaluation and planning.  There are also Bike Friendly recognition categories for Communities, Businesses, and Universities.
Delaware was awarded Bronze level recognition status in the BFS category with rankings of #8 in 2009, #9 in 2010, and #18 in 2011.  Why did we go down?  Did Delaware take its eye off the ball?  No.  But a lot of other states tried harder.  A few states are really at the head of the class, like Washington, Wisconsin, Maine, and Minnesota.  And, of course, some states don't seem to be bike-friendly at all.  Then there is a big group fighting it out in the middle, including our neighbors Pennsylvania, Maryland and New Jersey.  The differences between states may be small, but in the end there will be a #1 – 50 ranking
To try to move back up the ladder in this bragging-rights contest, Bike Delaware stepped in to work with DelDOT on the application process.  The result was amazing cooperation among a long list of stake holders, including Bike Delaware, DelDOT, Delaware Bicycle Council, DNREC, DE State Police, and several bicycle clubs.  This cooperative effort, on the application AND the on-the-road criteria, is one of the things LAB is looking for.
After a month of E-mails, phone calls, face-to-face meetings, countless tweaks and revisions, Anthony Aglio, DelDOT Bicycle Coordinator, submitted the application to LAB on March 5.  Now we can only sit back and see how we did.  While the team worked hard to make the application look as good as possible, the real goal is to make the state a user-friendly state for all the different bicycling user groups.  When we do that, completing a successful application will be easy.