View Larger Map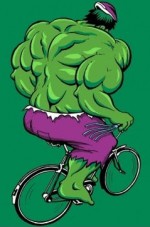 By John Bare, BFS Coordinator –
In response to a recent letter to the Wilmington News Journal, the writer clearly does not understand the various users' rights and responsibilities.  "Cyclists cause a hazard to other cars."  Wow, it has been hard enough to gain acceptance of a bicycle as a "vehicle" and now a cyclist (a living, animate person) is a car (an inanimate object)?  Animate/inanimate aside, that must be one Rambo/Hulk of a cyclist if he is a hazard to cars!  In my most ego-drenched dreams, I don't visualize myself as a hazard to cars.  Meanwhile, based on admittedly little information, the cyclist is looking better and better to me all the time.
On Sunday, I visited the scene of the crime. Naaman's Rd is 5 ½ miles long, from Rt 202 (Concord Pike) to Rt 13 (Philadelphia Pike).  There is NO BIKE LANE anywhere in either direction.  The entire length is 4-lane divided highway:  two travel lanes in each direction; occasional right turn lanes; occasional left turn lanes; generally wide shoulder; disappearing shoulder whenever a right turn-only lane (RTOL) appeared or intersection without RTOL appeared; no shoulder at all in the eastern-most ~1 mile near Philadelphia Pike; the no-shoulder zone had an immediately adjacent curb and tall reflective barrier; generally the shoulders had light debris, but most of the painted islands in the intersections, after the RTOL turned right, were filled with medium to heavy debris.
Bicycling on this road is not for the faint of heart or inexperienced cyclist.  There are several riding styles which one could use, depending on one's equipment, skill, reason for being there, level of paranoia. If this were the only route available for utilitarian/commuter riding, outfitting a bike with bomb-proof tires and press on down the shoulder would be a good choice.  If I were riding this road (on my normal lightweight kit), I would be in the lane which is wide enough to safely accommodate a cyclist and a motorist.  However, if I had to deal with this road routinely, I would find an alternate route because it is not a fun road.  An exception to the "wide enough to accommodate a cyclist and motorist safely" is a large portion of the eastern-most ~1 mile with the close curb and adjacent barriers.  This is a really-not-fun section.
Maybe that analysis, without the alleged facts of the incident, may shed light on the situation.  Frankly it is hard for me to imagine any cyclist riding in the center of the lane.  Exceptions being in the narrow eastern end on Naaman's Rd or for brief moments while executing some type of lane change, e.g. crossing several lanes to set up for a left turn.
RELATED:
• WNJ Letter: Reckless cyclists cause a hazard to other cars
• Right Turn Only Lanes – Poignant