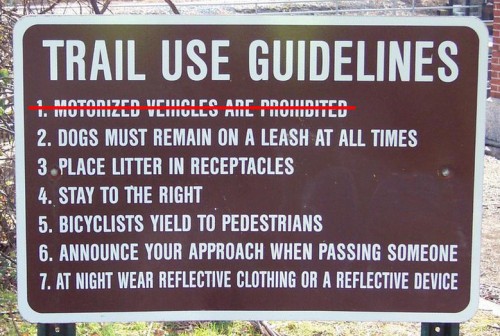 Featured in the Bergen Record, NJ — A new federal directive has a progressive goal: giving "mobility disabled" residents a better chance to enjoy public parklands by letting them use motorized vehicles on trails. And park supervisors can bar such access only if they document that conditions are too rough on a given trail and publicly post the results of that study.
But those seemingly simple changes to the Americans with Disabilities Act have New Jersey and county parklands staff scrambling to assess thousands of miles of trails. And they're rubbing up against the state's ban on motorized vehicles in environmentally sensitive lands.
Parkland stewards note that the ADA changes provide no specific definitions of "other power-driven mobility device" — whether it can be a motorized wheelchair, golf cart, an ATV or even a pickup truck. And that's resulted in confusion. Staffers at several parklands in North Jersey who were surveyed by The Record were unaware of the changes. And for residents who want to know the status of official assessments, there are few Web sources.
Before the new ADA directives, most combustion-motor vehicles were banned on most trails on the national, state and county level because of pollution factors and the risk of damaging fragile trails and ecosystems. That concern has long been a source of conflict between motor-sport activists and environmental preservationists. Now, the new law states that a blanket ban on all motor vehicles will no longer suffice.
"We face imminent danger of a fundamental alteration to our back-country trails, including the Appalachian Trail," the Appalachian Trail Conservancy, a trail advocacy organization, said in a letter to the Department of Justice.  [Continue reading…]
Poster's notes:
Bike Delaware advocates spoke with State Parks on 3/5. No signage is planned for removal on State and County trails, i.e. White Clay, Middle Run, etc at this time. However, they are working on a revision that will soon replace them. Stay tuned.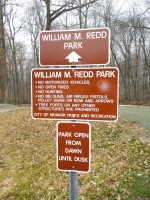 Redd Park between Newark and Corner Ketch is under City jurisdiction. Newark Parks and Recreation is reviewing the new federal rules, and are working with the County and State to draft new language that can be used for signs across all 3 park systems. It will not be easy. The new rules are vague and there is no real definition for what constitutes handicap assist, propulsion type, size, etc. As the above article states, nothing says that it can't be a full size pickup truck. To make matters worse, it is illegal to ask someone driving such a vehicle if they are handicapped, meaning that if word spreads among the ATV community, this could become grossly abused with little means to stop it. Already, Bike Delaware members have reported seeing ATVs tearing about the trails and wetlands in the park (example of damage below).
In summary, perhaps there will be new "handicap assist only" signs, but such assist could be combustion, making these signs ineffectual from an enforcement standpoint. So what will it take to reverse this tragic decision? Will it take lawsuits after folks are hit or injured or run off as a result? We should be outraged over what this means for trail conditions, erosion, wildlife, etc. While ADA has been great in most situations, including access for peds, bikes, and handicapped alike, this is an insane regulation when it comes to non-motorized off-road safety.
Is there anywhere that is truly safe from the onslaught of motor vehicles, especially now under ADA cover?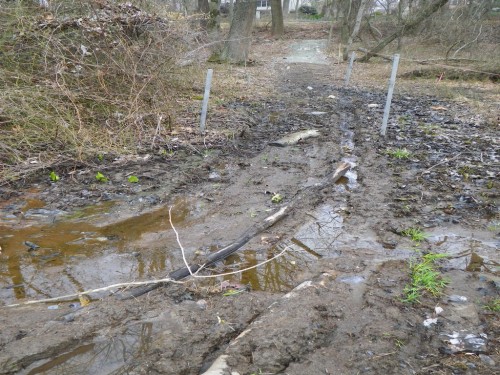 Evidence of motor vehicle damage is growing in Redd Park. The trail system runs between Newark and Pike Creek. Signs banning the use of motor vehicles are planned for removal pending modification under new ADA guidelines.