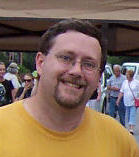 After more than two highly productive years as Newark Bicycle Committee Chairman, Jeff Riegner has stepped down. His legacy includes working with many committee members in making Newark a Bronze level "Bicycle Friendly Community" as defined by the League of American Bicyclists, and seeing to it that the Newark Transportation Plan featured a number of bicycle-friendly enhancements. When the Plan is implemented, essentially every major street in Newark will feature bicycle facilities. Jeff's work will pay off for many years to come, as features of the Plan are implemented with pave & rehab projects, and infrastructure improvements and repairs.
Jeff once said "I envision a Platinum level Newark that my children and grandchildren will one day grow up to enjoy." Jeff's dedication to NBC and the City of Newark will not be forgotten, and we all owe him a warm round a kudos for a job well done.
That said, the position of Chair is now vacant. Mike Fortner of the City's Planning Department has taken over, but only on an interim basis. It is critical for someone from the bicycling community to step up and fill this pivotal role for at least a one- or two-year term. Bicycling in Newark is already at a high mode share (4.7% of commute trips) by national standards, and is set to continue growing. The Committee's long term viability depends on new folks stepping up and getting involved.
If you or someone you know is interested in assuming the role of Chair of the Newark Bicycle Committee, please contact Mike Fortner as soon as possible at mfortner@newark.de.us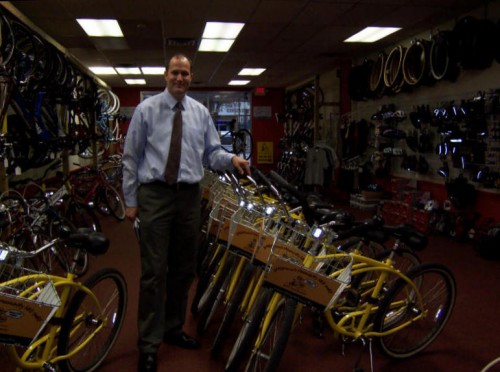 Mike Fortner, above, takes a field trip to Pottstown PA to investigate a local – and highly successful – bike share program. Mike is currently sitting in as interim chairman of the Newark Bicycle Committee, a position that should be occupied by a volunteer.