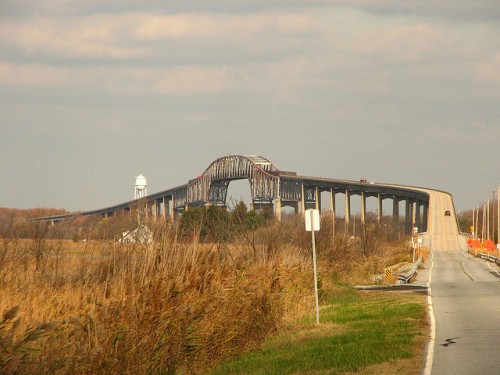 By Amy Roe, Sierra Club Delaware Chapter
Please contact our Elected Officials and Request that the Reedy Point
Bridge repair work be done in a way that minimizes the damage to our
local Communities!
Options for Bicycling over the C&D Canal reduced –
The communities of Delaware City and Port Penn recently learned of the
immediate intention of the United States Army Corps of Engineers to
shut down the Reedy Point Bridge for repairs for a period of 270 days.
This came without notice and the project was awarded to a contractor
without ANY public input.  As a result, the Corps did not include the
request of specifications in the work contract to avoid detrimental
impacts to the community such as keeping one lane open continuously,
limiting the road closure to night work hours, and many other options.
In addition, the community learned that insufficient funds were
allocated to complete all the necessary bridge repairs, so additional
work will need to be done in the future that will again have a
negative affect on the community.
As we work to develop the Delaware City/Port Penn area as a hub for
eco tourism along the Delaware Bay Shore area, it is imperative that
we avoid a full closure that is expected to have devastating impacts
on numerous local businesses that depend on tourist traffic during the
summer season.  It is likely that this federal project will cause the
loss of local jobs, and will create severe hardship to numerous local
small businesses to provide services to those traveling through the
scenic coastal by-way.
Please contact your Federal Elected Officials and the Governor and insist that:
1.  The Corps of Engineers modify the contract to avoid the
detrimental impacts to the communities of Delaware City and Port Penn.
2.  If the Corps cannot reach mutually agreed upon contract amendment
terms that avoid these community impacts with their selected
contractor and the community leaders,  the contract must be terminated
and put out for a new bid with specification requiring that the
community concerns be addressed.
3.  Request that Senator Carper, Senator Coons, Representative Carney,
and Governor Markell work to find new funds or that they redirect the
existing $16.9 million in federal dollars they set aside for the
Delaware River Main Channel Deepening Project to adequately fund the
Reedy Point Bridge project.  Tell them our local communities, local
jobs, and maintenance of existing failing infrastructure are a much
higher priority than speculative hope of benefits from the Main
Channel Deepening Project.
Senator Carper: (302) 573-6291  (via on-line form)
Senator Coons: (302) 573-6345  (via on-line form)
Representative Carney: (302) 691-7333  (via on-line form)
Governor Markell: (302) 577-3210