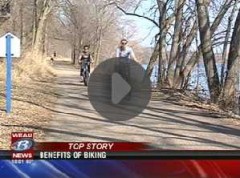 WEAU.com — If you're heading to the store you might want to grab your bike instead of your car. A study out of UW-Madison says if everyone ditched their cars, health care costs could be reduced by billions of dollars.
People out biking say Wednesday was a perfect day to get out the bike. However most of the riders we talked to say they pedal for more than just exercise.
"I use it as a transport I don't have a car so I use it to get around Eau Claire," says Peggy Osthelder.
"We bike to class, yea pretty much any what ever is close and if it's a nice day," says Tiffany Moy.
"I think maybe we get spoiled with our cars but put a basket on like this you can haul some groceries home," says Jim Springer.
A lot of people were getting out on two wheels and pedaling because of the nice weather. However a new study shows if all of the 31-million people living in the upper Midwest used a bike instead of a car for half of their short trips and errands, about $8-billion in health care costs could be saved. It also says nearly 1,300 deaths could be avoided.  [Continue reading…]