March 21, 2011: Delaware Department of Transportation Secretary Shailen Bhatt at the 2012 National Bike Summit (center).
DelDOT Secretary Shailen Bhatt spoke at the 2012 National Bike Summit on Wednesday – only the second state Department of Transportation Secretary to ever do so.  He joins Governor Markell in this distinction, who spoke at the National Bike Summit in 2010 and is, still, the only Governor to have ever done so.
Delaware is unique in its support for nonmotorized transportation, too, in that our political leadership don't just have nice words.  In their proposed budget, Governor Markell, Secretary Bhatt and Secretary O'Mara have proposed investing millions in bicycling.
In recognition of the stunning funding commitment that the state made last year (and the even larger commitment that is being proposed this year), "Walkable, Bikeable Delaware" was recognized as the "Winning Campaign of the Year" at the Summit on Tuesday.
Bicycle groups from Delaware were well represented at the 2012 National Bike Summit, and went to Capitol Hill on Thursday March 22 to meet with our Congressmen. Jim Ireland (Delaware Trail Spinners), Amy Wilburn (Delaware Bicycle Council), Angela Cunneely and Frank Warnock (Bike Delaware), and Carol Ireland (White Clay Bicycle Club) all suited up and stormed the Hill. The focus of these meetings was to encourage Rep. John Carney, Senator Tom Carper, and Senator Chris Coons to continue fighting on our behalf to maintain non-motorized funding in the upcoming Federal Transportation Bill re-authorization.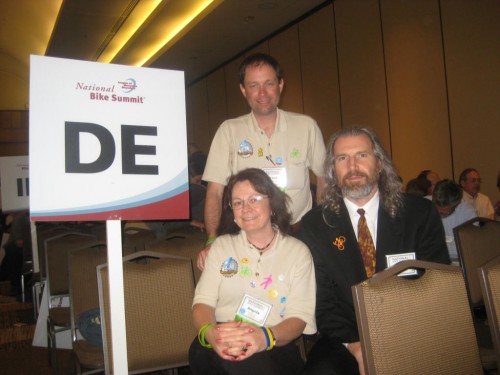 Angela Cunneely (Bike Delaware), Frank Warnock (Bike Delaware) and Jim Ireland (Delaware Trail Spinners)