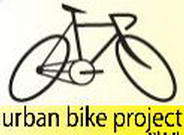 It's been a long time since you've heard from us, and there are a lot of changes and upcoming events we need to inform you of.
urbanbikeproject.org is no longer our web address; please keep in mind the small yet important change to urbanbikeproject.com!! Due to the unfortunate loss of our domain name, we are starting from square one on the new website, so please be patient while it is developed.  Also, if you are interested in helping us with the website please let us know!
As a result of the change in web address, our former emails are now defunct.  Please direct any emails to urbanbikeproject@gmail.com until further notice.  We have also lost our mailing list, so if you would NOT like to receive updates on this mailing list, please email and let us know, we will remove you from the list.
Another very important note, OUR HOURS HAVE CHANGED!  We are now open Tuesdays and Thursdays, 6:30-9 pm.  We are no longer open to the public on Saturdays.
We would like to hold another Mechanic's Training Course soon.  If you are interested, please email us!  We will offer the course on demand; in other words, as soon as enough people respond, we will schedule the course.
Here are some of the events coming up this season:
Earn-A-Bike camp will start on April 14, 2012. It will run from 12-3pm each Saturday at Urban Bike Project.  Contact Corry to sign up or for more information 302-384-3557.
Safe Kid's Day is April 14, 2012 at Bellevue State Park. 10-1pm. UBP will be doing bike safety checks.
Wilmington Grand Prix is May 19, 2012. UBP will be doing bike tune ups and valet bike parking.
South Wilmington Block Party is July 21, 2012. Bike fix demonstrations, kids bike give-aways, bike tune-ups. More details to come.
October 20, 2012 at Harrington State Fairgrounds. UBP, in collaboration with Newark Bike Project, will be doing bike safety checks, bike fix demonstrations, and collecting bike donations.
As always, we need volunteers, so if you haven't been in for a while or you've always meant to come volunteer, there's no better time than now!  Contact us for a volunteer orientation.
Urban Bike Project of Wilmington
-a 501(c)3 non-profit bike shop-
1908 N. Market Street (entrance is in the parking lot behind the building)
Wilmington, DE 19802
Hours:
Tuesday 6:30-9:00 | Thursday 6:30-9:00 | Saturday CLOSED (youth programming will take place on Saturday as we get organized)