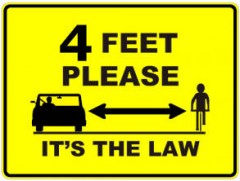 by Angie Schmitt, Streetsblog –
Currently 20 states have laws on the books requiring motorists to give cyclists a three-foot berth when passing. Pennsylvania was the latest state to join the club this week, and did so with a flourish.
The commonwealth upped the ante by enacting a four-foot passing requirement. One of the common criticisms of laws like this one is that they aren't enforced. But Pennsylvania didn't waste any time, according to this report from Richard Masoner at Network blog Cyclelicious:
Pennsylvania's 4 foot bicycle passing law went into effect on Monday this week. The law claimed it's first hapless victim on Monday afternoon, when a 17 year old driver was ticketed for failing to pass with four feet after he rear ended a cyclist on the Fahy Bridge in Bethlehem, PA.
The bike was mangled in the collision and cyclist Frank Pavlick was bruised and scraped.  [Continue reading…]
—
Poster's note: Delaware passed the standard 3′ Passing Law, which in this case (post-incident) would have been equally effective.